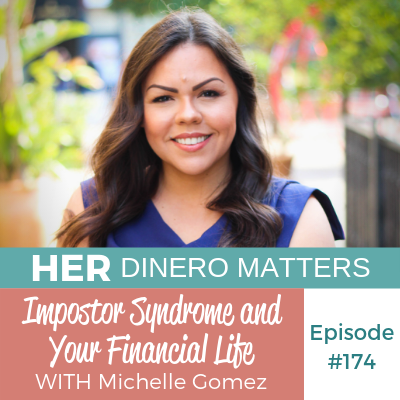 Impostor syndrome is not fun to battle.
Dictionary.com defines it as:
Anxiety or self-doubt that results from persistently undervaluing one's competence and activerole in achieving success, while falsely attributing one's accomplishments to luck or other external forces.
Not only do we get to know the experience Michelle Gomez had with impostor syndrome but as well as her own financial journey.
There is a lot of great nuggets in this one!
Listen to the Episode Below
What you'll learn about in today's episode:
What she learned as a girl from the bank's automated line

Her mother's struggles as a single mom and what she took from it

Her dealings with impostor syndrome, what she did to overcome it and what resulted

Her top tips in overcoming impostor syndrome so you can improve your financial life
Pregunta of the Week:
🤔 What's Michelle's proudest money moment? 🤔
Use your free account in the Her Dinero Matters Hub to submit your answer and be one step closer to this month's freebie giveaway!
Have your free account? Click here to get taken directly to this week's question.
Don't have a free account, yet? No worries click here to get started (and submit your answer).
Resources From This Episode:
Nominate a mujer (woman) for Reina of the Week here: www.jenhemphill.com/reinaoftheweek
☕️☕️☕️☕️☕️☕️☕️☕️☕️☕️☕️☕️☕️☕️☕️☕️☕️☕️☕️☕️☕️
I want to hear from you!  What was your favorite takeaway from this episode? Please come on over to our community and share with us there.
Abrazos + Much Love,
Jen
P.S. ¡GRACIAS por escuchar! THANKS for listening!
Enjoy The Show?
Be sure to never miss an episode:
Share with a friend by using the social media icons below.
Send us feedback via email to support@jenhemphill.com or click here to leave a voicemail.
The post, Impostor Syndrome and Your Financial Life with Michelle Gomez | HDM 174 appeared first on the Her Dinero Matters Podcast