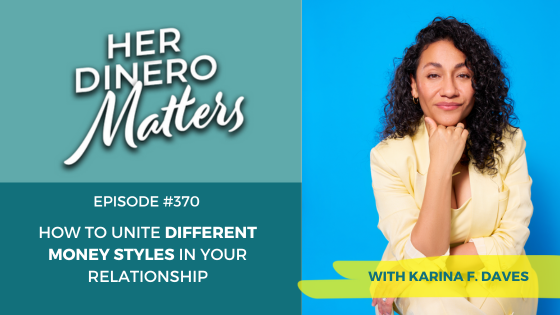 Money issues test many relationships. But with empathy for your varying money styles, unity is possible.
Navigating money conversations is key, whether newly dating or married for years. Learning how to understand each other's backgrounds, budgeting together, and championing each other's dreams creates harmony.
Today, Karina Daves provides a fresh approach to foster financial unity in your relationship.
Karina is a relationship coach empowering women to elevate their marriages using insights from her background as a social worker and professor. With over 200,000 social media followers, her videos have amassed nearly 25 million views.
What you'll learn about in today's episode:
The importance of understanding each other's money values and histories before entering a partnership.
Strategies for fostering financial transparency in your money conversations whether it be on debt, aspirations, and more.
Tips for aligning financially with your partner by understanding and championing diverse money styles and passions.
How triggers in relationships drive self-growth and understanding, subsequently enhancing couple communication and harmony.
Listen to the Episode Below
You can also watch on YouTube!
Resources from this episode:
Karina's Website: www.karinafdaves.com
Grab your spot and join us for Financially Strong Latina 2023. Get all the details here: financiallystronglatina.com
Related Her Dinero Matters episodes you may enjoy:
#355 – How Should Married Couples Split Finances?
#102 – How to Jumpstart Your Marriage & Money in 4 Weeks With Elle Martinez
☕️☕️☕️☕️☕️☕️☕️☕️☕️☕️☕️☕️☕️☕️☕️☕️☕️☕️☕️☕️☕️
Get involved in our community:
Join the conversation in our community on Facebook: jenhemphill.com/community


Want to get social? Let's connect more on Instagram @jenhemphill
Enjoy the Show?
Be sure to never miss an episode by hitting the subscribe or follow button on your favorite podcast app! Get instant notifications of the latest episodes now!
Be sure to share with a friend (or two)! You never know what someone is going through in their financial life. Here is a tweet you can share now:
If you listen on Apple Podcasts you can review THERE. If not you can go HERE to review on Podchaser! THANK YOU!
Have Feedback?
Send us feedback via email to support@jenhemphill.com or click here to leave a voicemail.
The post, How to Unite Different Money Styles in Your Relationship | HDM 370 appeared first on the Her Dinero Matters Podcast.