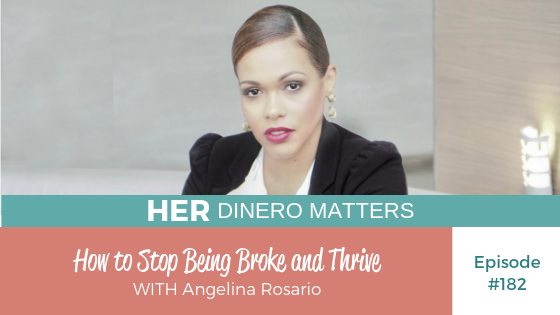 How to stop being broke starts from within, not with your paycheck.
In this episode, we chat with Angelina Rosario who found herself broke.
This was a turning point in her life which lead to reflection, growth and to thriving in her financial life.
Listen to the Episode Below
What you'll learn about in today's episode:
The story of when she spent $80k in 3 months

How this resulted in finding herself broke with only a piece of salmon and a banana

What she did to transform her life from broke to thriving
Pregunta of the Week:
🤔 What are 1-2 things that Angelina has done to shift her life from broke to thriving? 🤔
Use your free account in the Her Dinero Matters Hub to submit your answer and be one step closer to this month's freebie!
Have your free account? Click here to get taken directly to this week's question.
Don't have a free account, yet? No worries click here to get started (and submit your answer).
Resources From This Episode:
Connect with Angelina: SheFixesCrowns.com
You can join our community (and receive our weekly newsletters) by grabbing The Daily Dinero Ritual!
Nominate una mujer (one woman) for Reina of the Week here: www.jenhemphill.com/reinaoftheweek
☕️☕️☕️☕️☕️☕️☕️☕️☕️☕️☕️☕️☕️☕️☕️☕️☕️☕️☕️☕️☕️
I want to hear from you!  What was your favorite takeaway from this episode? Come on over to @HerDineroMatters on Instagram and share it with us there.
Abrazos + Much Love,
Jen
P.S. ¡GRACIAS por escuchar! THANKS for listening!
Enjoy The Show?
Be sure to never miss an episode:
Share with a friend by using the social media icons below.
Send us feedback via email to support@jenhemphill.com or click here to leave a voicemail.
The post, How to Stop Being Broke and Thrive with Angelina Rosario|HDM 182 appeared first on the Her Dinero Matters Podcast