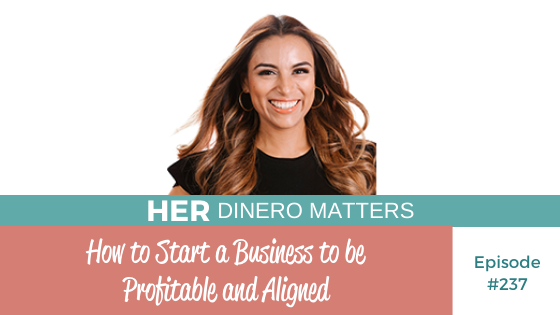 Have you wanted to start a profitable business from an idea that you are passionate about but think you need a lot of money to get started? Nowadays, with so much technology available, there are many ways to start a business to fulfill your passion and be profitable and you can get started with less money than what you imagine!
In this episode, Angie Carrillo is raising her voice to share her money story and she is sharing tips on starting a business that is profitable but most importantly that aligns with your personality and your values as an entrepreneur.
Angie Carrillo is a visionary entrepreneur, philanthropist, and business coach. On a mission to empower diverse entrepreneurs to create the future. We are covering how losing all of her money in less than 24 hours taught her a powerful life lesson, the importance of choosing the appropriate business model when starting a business, and important reminders to keep in mind when using investors for your new business.
Listen to the Episode Below
What you'll learn about in today's episode:
The #1 Reason why startups fail

An important and practical business secret not taught in Business School

Ways to know if your business needs venture capital funding

Tips to keep in mind when working with investors for your business
Angie's Surprising Money Story
Angie and her family lost all of their money in less than 24 hours after her mom was working for the government of Peru and this was a turning point for all of their lives. She shares how immediately after this incident, her mother taught her a very valuable life lesson that "No matter what happens one day, the next day is always a NEW day!" Angie began seeing her mother as not just mom, but as her friend and teammate to move forward together after such a difficult experience.
She learned that it is okay to lose everything, because you will recover, if you are willing to put in the work, you will get back up.
If it had not been for this experience, Angie might have not chosen to apply for scholarships that led her to her career in Business Administration, Silicon Valley, and a whole new world of possibilities. One thing she knew for sure was that she wanted her own private company – she did not want to work for the government!
Choosing an Aligned Business Model
Throughout Angie's career, she has learned so much by actually "being in the trenches", building her own businesses, and helping other entrepreneurs build theirs. As she developed her first company from an idea she had of offering a coding boot camp for girls, she realized she needed to raise some money to make it bigger and this led her to learn all about venture capital funding and choosing the right business model.
She shares why it is crucial to choose the right business model that suits your personality and how this is not something typically taught in Business School. As entrepreneurs, there are different factors that motivate us into the type of business we create, and Angie shares the importance of understanding and identifying which type of entrepreneur you are to know which business model will work best for you.
How to Know if Venture Capital Funding is Right for Your Business
Angie shares how knowing the type of entrepreneur that you are and what motivates you to pursue your business idea will also help you determine what kind of impact you want to have and understand if you need venture capital funding or not.  Angie warns business owners to be very selective and intentional when choosing investors, it can't all just be about the money, those investors should bring more value than just the funds.
According to Angie, not every business model needs to have investors and as a business owner, you need to be aware of how much of your company you are willing to give away to investors. There are many ways nowadays to start a business and you might not need as much money as you think you do.
Quick Tips from Angie
Angie points out these important tips when starting a business, make sure there's a market for your idea and find the business model that aligns with your personality and strength.
"Making Business Profitable is Easier than What We Think!"- Angie Carrillo
Resources From This Episode:
If you loved this episode and loved learning all of these business tips from Angie, make sure to connect with her on Instagram and Linkedin @angiecarrillor and visit her website at www.angiecarrillo.com.
Want to get social? Let's connect more on Instagram @herdineromatters
☕️☕️☕️☕️☕️☕️☕️☕️☕️☕️☕️☕️☕️☕️☕️☕️☕️☕️☕️☕️☕️
I want to hear from you!  What was your favorite takeaway from this episode? Come on over to @HerDineroMatters on Instagram and share it with us there.
Abrazos + Much Love,
Jen
P.S. ¡GRACIAS por escuchar! THANKS for listening!
Enjoy the Show?
Be sure to never miss an episode by hitting the subscribe or follow button on your favorite podcast app! Get instant notifications of the latest episodes now!
Be sure to share with a friend (or two)! You never know what someone is going through in their financial life. Here is a tweet you can share now:
Have Feedback?
Send us feedback via email to support@jenhemphill.com or click here to leave a voicemail.
The post, How to Start a Business to be Profitable and Aligned| HDM 237 appeared first on the Her Dinero Matters Podcast.