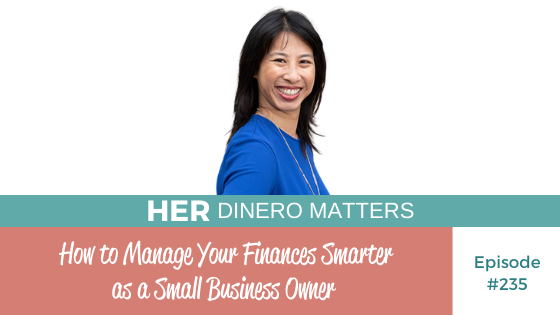 Starting a business is exciting and even more when it is profitable! Are you looking to finally start your own business and want to learn how to manage your finances effectively? Do you already have a business and are wondering how to streamline your systems to manage your finances smarter?
In this episode, Sylvia Inks is breaking down how to manage your finances smarter as a business owner.
Sylvia Inks is a business and financial coach who helps coaches, consultants, and creative experts master the money coming into and out of their small businesses. We are covering how to know when it is financially safe to leave your corporate job and focus solely on your new business, the top mistakes that Sylvia has seen many business owners make, the system breakdown on how to manage your business's money, the importance of multiple income streams and when is the right time to add a new stream of income, and a quick explanation on how passive income truly works.
Listen to the Episode Below
What you'll learn about in today's episode:
The top 4 mistakes many small business owners make
The breakdown of the system to manage your business money
The importance of multiple income streams and when to consider adding another
How passive income truly works
Resources From This Episode:
Connect with Sylvia and get access to her 5-day course to help you save time and money in your small business:
https://smifinancialcoaching.com/herdineromatters
Grab your Daily Dinero Ritual to help you tackle both your business and personal finances by CLICKING HERE!
Don't miss perusing the Her Dinero Matters LOUNGE (my collection of free and paid resources). Create your free account today: https://jenhemphill.com/thelounge
☕️☕️☕️☕️☕️☕️☕️☕️☕️☕️☕️☕️☕️☕️☕️☕️☕️☕️☕️☕️☕️
I want to hear from you! What was your favorite takeaway from this episode? Come on over to @HerDineroMatters on Instagram and share it with us there.
Abrazos + Much Love, Jen
P.S. ¡GRACIAS por escuchar! THANKS for listening!
Enjoy the Show?
Be sure to never miss an episode by hitting the subscribe or follow button on your favorite podcast app! Get instant notifications of the latest episodes now!
Be sure to share with a friend (or two)! You never know what someone is going through in their financial life. Here is a tweet you can share now:
Have Feedback?
Send us feedback via email to support@jenhemphill.com or click here to leave a voicemail.
The post How to Manage Your Finances Smarter as a Business Owner | HDM 235 appeared first on the Her Dinero Matters Podcast.