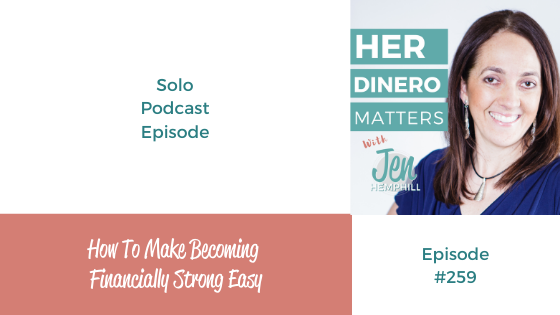 April is the month where we celebrate, where we highlight, and where we give focus to Financial Literacy Month. Since it's a whole month dedicated to financial literacy and with the recent online event Financially Strong Latina I want to encourage you to continue your journey on becoming financially strong and financially literate.
Listen to the Episode Below
What you'll learn about in today's episode:
What you can expect on the podcast during Financially Literacy Month

How

to be

financially strong

How

to stay

financially strong
Financially Literacy Month A Lo Latino
Financial Literacy Month started as Youth Financial Literacy Day. Eventually, it got passed by Congress to be Financial Literacy Month in 2005, but it wasn't proclaimed until years later.
This month I have a special series focused on financial literacy, but a lo Latino. The Her Dinero Matters podcast is created with the Latina in mind and with the Financially Strong Latina event, we wanted to create a more specific focus on becoming financially strong. As you know, Latinas are the ones that run the household and the ones that manage those household finances, which is why it's so critical on becoming financially strong and have control over our finances. It is all related to Financial Literacy Month because you need to understand your finances and be financially literate, to be financially strong.
Financially Strong Is Not In The Dictionary
In the Financially Strong Latina event, the speakers and the participants on social media shared their definition of financially strong. If you weren't signed up, here are the key points how I defined it:
↳Having clarity on your current financial situation.
↳Being financially stable.
↳Having confidence in making financial decisions.
↳Feeling content about your financial situation.
Becoming financially strong can mean different things to different people. In this episode, I'm going to share with you several definitions from some of our participants of the Financially Strong Latina event. A big part of becoming financially strong is identifying what it means to you.
Staying Financially Strong
Think about exercising, when you lift some weights, for example, you become stronger and when you stop, your muscles weaken. When you exercise those muscles to save, invest, improve your credit score, talk to your children about financial education, etc., you're becoming financially stronger, and you're maintaining that strength. Staying financially strong comes with commitment and consistency. Don't miss what else I shared in the episode about this point.
Resources From This Episode:
Session #3 (last session) of Financially Strong Latina is tonight! Did you grab your spot for tonight's session? Today, April 1st, (It's FREE) thanks to the sponsorship of AARP.
If you registered, do not forget to go to the Facebook event page here! Mark "going" and be part of our Facebook Pop-Up Group! (registration required) for the replays of all the sessions and bonus material. 
You can join our community (and receive our weekly newsletters) by grabbing The Daily Dinero Ritual!
☕️☕️☕️☕️☕️☕️☕️☕️☕️☕️☕️☕️☕️☕️☕️☕️☕️☕️☕️☕️☕️
I want to hear from you!  What was your favorite takeaway from this episode? Come on over to @Jenhemphill on Instagram and share it with us there.
Abrazos + Much Love,
Jen
P.S. ¡GRACIAS por escuchar! THANKS for listening!
Enjoy the Show?
Be sure to never miss an episode by hitting the subscribe or follow button on your favorite podcast app! Get instant notifications of the latest episodes now!
Be sure to share with a friend (or two)! You never know what someone is going through in their financial life. Here is a tweet you can share now:
Have Feedback?
Send us feedback via email to support@jenhemphill.com or click here to leave a voicemail.
The post, How To Make Becoming Financially Strong Easy | HDM 259 appeared first on the Her Dinero Matters Podcast.