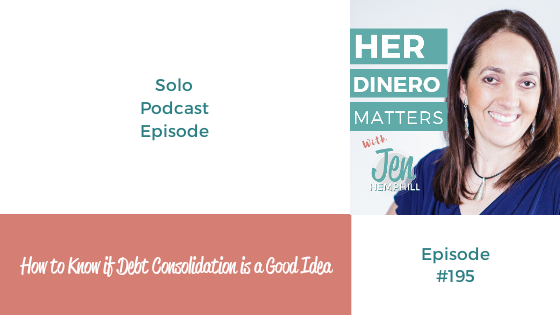 Today's episode is brought to you by LightStream, the online lending division of SunTrust bank and their purposeful debt campaign. All this means is that I'm proudly participating in this campaign and I have received compensation for this participation. All opinions are my own.
One of the most common questions I get asked is "Should I do a debt consolidation?"
The answer of course is different from person to person which is why in this episode I wanted to break down debt consolidation so you can make a decision that is best for you.
Listen to the Episode Below
What you'll learn about in today's episode:
What exactly debt consolidation is
Ways to consolidate
Who debt consolidation is for and who should use caution
Benefits of debt consolidation loans
Resources From This Episode:
Apply for debt consolidation and get your special Her Dinero Matters listener discount here: https://lightstream.com/jenhemphill
To view important disclosures, visit www.lightstream.com/disclosures
Most recent blog post that addresses purposeful debt: jenhemphill.com/purposefuldebt
☕️☕️☕️☕️☕️☕️☕️☕️☕️☕️☕️☕️☕️☕️☕️☕️☕️☕️☕️☕️☕️
I want to hear from you!  What was your favorite takeaway from this episode? Please come on over to our community and share with us there.
Abrazos + Much Love,
Jen
P.S. ¡GRACIAS por escuchar! THANKS for listening!
Enjoy The Show?
Be sure to never miss an episode:
Share with a friend by using the social media icons below.
Send us feedback via email to support@jenhemphill.com or click here to leave a voicemail.
The post, How to Know if Debt Consolidation is a Good Idea | HDM 195 appeared first on the Her Dinero Matters Podcast