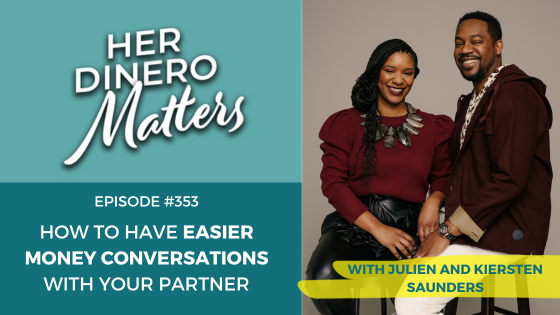 Are you tired of avoiding those uncomfortable money conversations with your significant other? Or do they always seem to turn into a full-blown argument? Now, picture a world where having those tough money talks with your partner is easy and stress-free. It's not just a dream- it can become a reality. In this episode, we'll show you how this can be true for you.
Money taboos are a real thing, and they become even more evident when you need to have a conversation about money with your partner. Our guests in this episode have experienced challenges when discussing money, but they have found a way to make it easier and have enriching money conversations.
Julien and Kiersten Saunders are authors who achieved financial independence through frugal living, real estate, stock market investing, and online business. They paid off $200,000 in five years and are popular for their blog richandregular.com, Money on the Table video series, and Rich & Regular podcast.
What you'll learn about in today's episode:
How avoidance of money matters presents itself in money conversations.
An unrealistic expectation we don't want to have when it comes to money management in relationships.
The best and most comfortable environment to have money conversations with your partner.
Listen to the Episode Below
You can also watch or listen on YouTube!
Resources from this episode:
Julien and Kiersten on Instagram: @richandregular
Julien and Kiersten's website: richandregular.com
**Julien and Kiersten's book: Cashing out: Win the Wealth Game by Walking Away
**Please note the link is an affiliate link so I may receive a small commission if you purchase**
Related Her Dinero Matters episodes you may enjoy:
#102 – How to Jumpstart Your Marriage & Money in 4 Weeks With Elle Martinez
#54: A Money Conversation With My Husband Johari Hemphill
☕️☕️☕️☕️☕️☕️☕️☕️☕️☕️☕️☕️☕️☕️☕️☕️☕️☕️☕️☕️☕️
Get involved in our community:
Join the conversation in our community on Facebook: jenhemphill.com/community


Want to get social? Let's connect more on Instagram @jenhemphill
Enjoy the Show?
Be sure to never miss an episode by hitting the subscribe or follow button on your favorite podcast app! Get instant notifications of the latest episodes now!
Be sure to share with a friend (or two)! You never know what someone is going through in their financial life. Here is a tweet you can share now:
If you listen on Apple Podcasts you can review THERE. If not you can go HERE to review on Podchaser! THANK YOU!
Have Feedback?
Send us feedback via email to support@jenhemphill.com or click here to leave a voicemail.
The post, How to Have Easier Money Conversations with Your Partner | HDM 353 appeared first on the Her Dinero Matters Podcast.