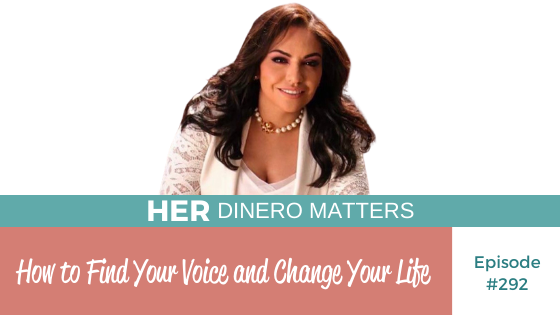 Have you ever thought or do you think that if you were born poor you died poor? Generational poverty is at the root of many of our traumas. You can build the life you've always dreamed of, no matter where you came from or where you are at in your money journey. The important thing is to align your mindset, actions, and to know how to find your voice. Today's guest shares how she coped with her traumas and found her voice not just for herself but others who hadn't found their voice. 
In this episode, Hilda Zamora, a legal giant in her community shares with us her upbringing and lessons around money, plus the unspeakable experience that marked her life and some words to pass on to other Latinas that are limiting themselves as to the money they can earn and the wealth they can build.
What you'll learn about in today's episode:
The inside story behind the experience that marked her life and her financial journey

Her perspective on how generational trauma affects the Latino Community in building wealth

How she found her voice and how you can too
Listen to the Episode Below
Want To Listen To Certain Parts Of The Episode?
Hover Over The Minute Mark Below And It Will Take You To That Part Immediately. 🙌🏽
↳The experience that marked not only her life but her financial journey. [3:06]
↳How she changed her generational belief about money. [9:20]
↳Her perspective on how generational trauma affects the Latino Community in building wealth. [13:03]
↳The story behind her bail bonds business and what led to her starting it. [16:34]
↳She shares her account on how the name "la defensora del pueblo" came about.. [22:22]
↳Hilda also passes on her wisdom as to why we as Latinas  are limiting ourselves as to the money we can earn and the wealth we can build. [24:49]
Resources From This Episode:
Connect with Lisa: Hilda Zamora
Click here to watch this episode on YouTube!
Get access to Budgeting Truths Uncovered, a private limited series podcast where we explore budgeting, learn why it is so misunderstood and how you can make it work for you once and for all: https://jenhemphill.com/limited
Grab your copy of my  Daily Dinero Ritual and increase your money confidence (it's free). You can join our community (and receive our weekly newsletters) just by grabbing it.
For all of those financially strong women who want to keep learning and taking control of their finances here is what you were asking for! Financially Strong Circle enrollment now open.  JOIN HERE! 
Follow us on your favorite podcast player and review! If you listen on Apple Podcast you can review THERE. If not you can go HERE to review on Podchaser! THANK YOU! 😉
☕️☕️☕️☕️☕️☕️☕️☕️☕️☕️☕️☕️☕️☕️☕️☕️☕️☕️☕️☕️☕️
I want to hear from you!  What was your favorite takeaway from this episode? Come on over to @Jenhemphill on Instagram and share it with us there.
Abrazos + Much Love,
Jen
P.S. ¡GRACIAS por escuchar! THANKS for listening!
Enjoy the Show?
Be sure to never miss an episode by hitting the subscribe or follow button on your favorite podcast app! Get instant notifications of the latest episodes now!
Be sure to share with a friend (or two)! You never know what someone is going through in their financial life. Here is a tweet you can share now:
Have Feedback?
Send us feedback via email to support@jenhemphill.com or click here to leave a voicemail.
The post, How to Find Your Voice and Change Your Life | HDM 292 appeared first on the Her Dinero Matters Podcast.