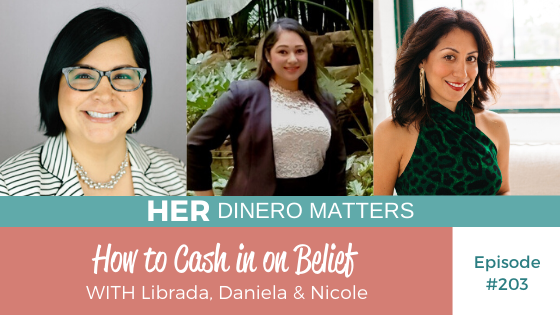 You don't typically think you can literally cash in on your belief, but the fact is you can. This month's Reina Panel provide some fantastic insights on their perception of belief as well as their own experience.
Let's learn a little bit about our panelists for this episode:
 Librada Estrada is a leadership & executive coach, facilitator, and trainer specializing in providing coaching services to governmental, public health and corporate sectors by empowering clients to shift their beliefs and embrace their unique leadership style to find fulfillment and success — professionally and personally. She is also a respected speaker and subject matter expert in women's empowerment and leadership development. Librada is also a Certified Professional Co-Active Coach (CPCC) and an Associate Certified Coach (ACC).
 Daniela Banales is a Tax and Finance Professional.  She started in the tax industry over 6 years ago and began to develop a passion for helping local families learn how to get better control and understanding of their money. Just 3 years ago she a made a shift got involved in the financial industry, she is also a spouse of a retired Marine and focuses closely on helping out in the military community. She loves being able to provide free workshops where these families can come and receive some formal financial education.
 Nicole Hernandez is a conscious entrepreneur, a certified hypnotist, and a speaker. She's the founder of Pink Graffiti, a brand consultancy for hotels and wellness brands. She's also the co-founder of Latina Podcasters and the host of The Daring Kind podcast. She helps her clients and listeners design and articulate resourceful narratives informed by neuroscience, behavioral psychology, journalism, and a little intuition. She has been featured in SUCCESS Magazine, Best Life, FemCity, Salon.com, PR Daily and more.
Listen to the Episode Below
What you'll learn about in today's episode:
Different perspectives of what belief means

How they each experienced a lack of belief in their financial life and what they did about it

Their top lessons (and words of wisdom) on belief and why you should care
Resources From This Episode:
Connect with this month's Reina Panel!⤵ ⤵
Librada: @Librada_Estrada (on IG)
Daniela: @Daniela.Banales (on IG)
Nicole: The Daring Kind
Click here to join the conversation on belief
Nominate a mujer (woman) for Reina of the Week here: www.jenhemphill.com/reinaoftheweek
Hop on over to the Himalaya App and get the details for the Cafecito Lounge! Use the code DINERO for a 30 day free trial.  
You can join our community (and receive our weekly newsletters) by grabbing The Daily Dinero Ritual!
☕️☕️☕️☕️☕️☕️☕️☕️☕️☕️☕️☕️☕️☕️☕️☕️☕️☕️☕️☕️☕️
I want to hear from you!  What was your favorite takeaway from this episode? Come on over to @HerDineroMatters on Instagram and share it with us there.
Abrazos + Much Love,
Jen
P.S. ¡GRACIAS por escuchar! THANKS for listening!
Enjoy the Show?
Be sure to never miss an episode by hitting the subscribe or follow button on your favorite podcast app! Get instant notifications of the latest episodes now!
Be sure to share with a friend (or two), you never know what someone is going through in their financial life. Here is a tweet you can share now:
Have Feedback?
Send us feedback via email to support@jenhemphill.com or click here to leave a voicemail.
The post, How to Cash in on Belief | HDM 203 appeared first on the Her Dinero Matters Podcast