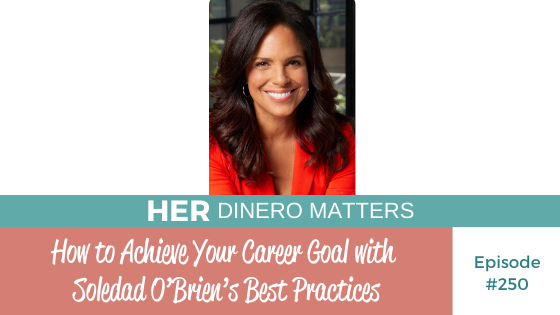 Do you feel that your work or projects are not aligned with your career goal? It's important to always keep your main goal in mind and focus all your actions and mindset in the same direction. Having a strategy will keep you motivated during the process by overcoming challenges and finally achieving your goal and jumping to the next one. 
In this episode, the amazing award-winning journalist, author, and philanthropist, Soledad O'Brien, shares her money story and personal money lessons. This is a fascinating conversation with Soledad where she also shares some of her best practices that helped her achieve her career goal.
Listen to the Episode Below
What you'll learn about in today's episode:
Soledad's money story

How journalism ties to money

Her best practices to achieve career goals
Soledad's Money Story
 Soledad shares with us how her money story started between the ages of 10-12 when she started working babysitting for some neighbors. Her parents saved as much as they could, but never planned for old age or had any money conversations with her. Having that experience has influenced her to make sure her kids understand and think about money in the hopes of preparing them to be financially resilient.
Journalism and Money
 For Soledad, it is important to share the untold stories in order to give people a lot more information and data so that they have a better understanding of what is at stake. She shares specific examples especially on poverty, race, and lack of access to money. 
3 Best Practices to Help You Achieve Your Career Goal: 
↳ Others can help you to achieve your career goals
 It's important to focus on the things you like and the ones you are good at. Leaning on people to bring knowledge or do the things that you don't have a lot of insights into is a huge asset to get closer to your career goal. For example, Soledad shares with us how she handles the game of negotiation when she started working as a reporter.  
↳ Always follow your main goal
 Always keep moving and overcoming any challenges that you have. "The goal would be to get the next job not necessarily staying within that category and hoping to move the needle on the category, but instead jumping to a whole new category, which would open up a new range of pay" and accomplish your career goal. Soledad also shares a personal experience about the importance of always having the main goal in mind.  
↳ Have multiple streams of income  
Soledad knew pretty early that she wanted to be diversified with her money. She encourages women to have multiple streams of income and to never rely on one job or one person. She shares her experience being at CNN, running her production company, and how being diversified helped her with her career goals and in her financial journey.
Resources From This Episode:
If you loved this episode with Soledad, make sure to connect with her on Twitter, @soledadobrien
Grab your copy of The Daily Dinero Ritual (it's free)
Click here to watch this episode on YouTube!
☕️☕️☕️☕️☕️☕️☕️☕️☕️☕️☕️☕️☕️☕️☕️☕️☕️☕️☕️☕️☕️
I want to hear from you!  What was your favorite takeaway from this episode? Come on over to @Jenhemphill on Instagram and share it with us there.
Abrazos + Much Love,
Jen
P.S. ¡GRACIAS por escuchar! THANKS for listening!
Enjoy the Show?
Be sure to never miss an episode by hitting the subscribe or follow button on your favorite podcast app! Get instant notifications of the latest episodes now!
Be sure to share with a friend (or two)! You never know what someone is going through in their financial life. Here is a tweet you can share now:
Have Feedback?
Send us feedback via email to support@jenhemphill.com or click here to leave a voicemail.
The post, How to Achieve Your Career Goal with Soledad O'Brien's Best Practices | HDM 250  appeared first on the Her Dinero Matters Podcast.