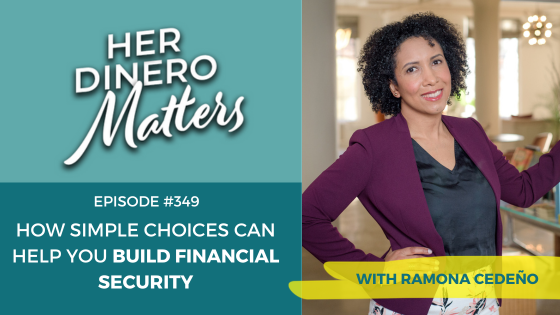 Maybe you have been reflecting recently on the beliefs you hold about achieving financial security. If this is you, keep in mind that it's never too late to make changes. In this conversation, Ramona Cedeño shares the simple choices you can make to make financial security easier to reach.
Why is financial security important? It does lead to a happier and more fulfilling life. Maybe though, you believe that you aren't good with money and becoming financially secure is far-fetched for you. If so, it's time to change that mindset. Instead, focus on simple choices to improve your financial skills and avoid dwelling on past mistakes.
Achieving financial security may seem challenging, but with simple choices and improvements in financial skills, it can become easier to reach. Our guest today, Ramona Cedeño, will explain how you can achieve it and more.
Ramona Cedeño is the CEO of FiBrick, a New York-based accounting and fractional CFO services firm. She is also the author of Simple Choices, Big Rewards in Money and hosts the In Great Company podcast.
What you'll learn about in today's episode:
Ramona helps us define financial security as well as understand the key considerations to build it.
The misconceptions common in our Latino community regarding financial security.
How her experiences with simple choices led to big rewards (and inspired her book).
One indispensable action you can take to shift your relationship with money.
Listen to the Episode Below
You can also watch or listen on YouTube!
Resources from this episode:
Connect with Ramona: simplechoicesbigrewards.com
Related Her Dinero Matters episodes you may enjoy:
#51 – Work Your Way To Wealth With Mary Beth Storjohann
#143 – Financial Independence and How To Reach It With Doug Nordman
4 Messy Money Lessons That Supercharged Our Money
☕️☕️☕️☕️☕️☕️☕️☕️☕️☕️☕️☕️☕️☕️☕️☕️☕️☕️☕️☕️☕️
Get involved in our community:
Join the conversation in our community on Facebook: jenhemphill.com/community


Want to get social? Let's connect more on Instagram @jenhemphill
Enjoy the Show?
Be sure to never miss an episode by hitting the subscribe or follow button on your favorite podcast app! Get instant notifications of the latest episodes now!
Be sure to share with a friend (or two)! You never know what someone is going through in their financial life. Here is a tweet you can share now:
If you listen on Apple Podcasts you can review THERE. If not you can go HERE to review on Podchaser! THANK YOU!
Have Feedback?
Send us feedback via email to support@jenhemphill.com or click here to leave a voicemail.
The post, How Simple Choices Can Help You Build Financial Security | HDM 349 appeared first on the Her Dinero Matters Podcast.