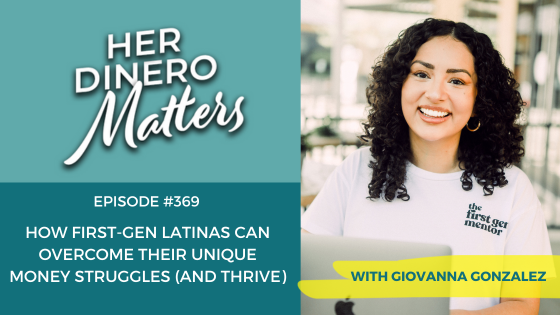 Have you ever wondered what it's like to be the trailblazer in your family, facing uncharted territory as a first-gen? What can we learn from these experiences to help shape our own path to success even if we aren't first-gen? Tune in as we delve into Giovanna Gonzalez's inspiring journey as a first-gen Latina and discover the invaluable lessons she learned while navigating the uncharted waters of a first-gen experience.
Being the first in your family to go to college or work in a corporate job is tough. First-gen Latinas like Giovanna Gonzalez have to figure out different aspects of money that we may take for granted alone. In this episode she shares her struggles and lessons learned to take control of her financial well-being.
Even if you're not first-gen, you'll not only learn from her experience but feel inspired by her journey to financial confidence.
Giovanna "Gigi" Gonzalez is a TikTok influencer known as the First Gen Mentor and financial educator who left a decade-long corporate career to teach young adults about finance. She was named a Top 25 Creator by Fast Company in 2022 and has been featured in The New York Times and Business Insider, among others.
What you'll learn about in today's episode:
How first-gen Latinas often lack financial guidance and face expectations to financially support family.
Why toxic money habits like overspending can derail long-term financial goals and building wealth.
Why setting financial boundaries with family is necessary.
How surrounding yourself with community and being proactive about financial education is key.
Listen to the Episode Below
You can also watch on YouTube!
Resources from this episode:
Giovanna's Website: Thefirstgenmentor.com
Grab your spot and join us for Financially Strong Latina 2023. Get all the details here: financiallystronglatina.com
Related Her Dinero Matters episodes you may enjoy:
#296 – Helping Family Navigate the Financial System as a First-Gen Latina
#66 – First Generation Graduates And The Ignored Gap With Natalie Torres
☕️☕️☕️☕️☕️☕️☕️☕️☕️☕️☕️☕️☕️☕️☕️☕️☕️☕️☕️☕️☕️
Get involved in our community:
Join the conversation in our community on Facebook: jenhemphill.com/community


Want to get social? Let's connect more on Instagram @jenhemphill
Enjoy the Show?
Be sure to never miss an episode by hitting the subscribe or follow button on your favorite podcast app! Get instant notifications of the latest episodes now!
Be sure to share with a friend (or two)! You never know what someone is going through in their financial life. Here is a tweet you can share now:
If you listen on Apple Podcasts you can review THERE. If not you can go HERE to review on Podchaser! THANK YOU!
Have Feedback?
Send us feedback via email to support@jenhemphill.com or click here to leave a voicemail.
The post, How First-Gen Latinas Can Overcome Their Unique Money Struggles (and Thrive) | HDM 369 appeared first on the Her Dinero Matters Podcast.