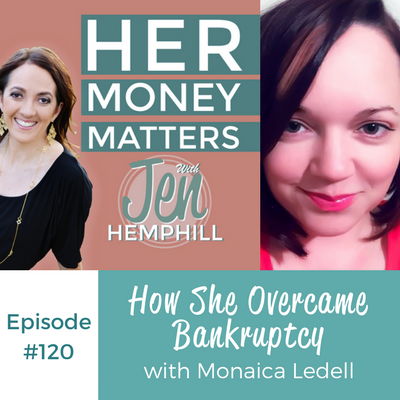 The thought of bankruptcy is feared universally and can be an intimidating process. It is inevitable in some cases and avoidable in others with each circumstance being unique.
Monaica Ledell joins us and shares with us how she overcame bankruptcy and what she learned in the process.
What you'll learn about in today's episode:
The lessons she learned from her parents from seeing them go from nothing to living the American dream

What led her to bankruptcy and how her family recovered

Why for 5 years her and her husband hand-delivered the bankruptcy payments

What she believes is the only factor stopping you from achieving anything
Listen to the Episode Below
Monaica's Money Story
Monaica shares how she didn't grow up with "a spoon in her mouth." She recalls that when she was born, her parents didn't have enough money to buy clothes, but her parents had a very strong network that surrounded them that came to the aid. She remembers watching her parents build something out of nothing.
Coming from a very outspoken, loving, and emotional family, Monaica says that her parents didn't talk about money while growing up other than the hustle negotiations and cautioned not to have debt. Her parent's mentality was "you work for what you want, and you can do anything." She saw her parents seek advice from mentors that led to their success. Today, Monaica and her husband are a couple who are very aligned with their money.
Monaica's Money Challenges – What Led Her to Bankruptcy
In her early 20's, Monaica said that she invested in a business with her own credit. At the time, she overestimated her ability to market her business – she needed to learn a lot more about sales and marketing.  The business did not do well, and she ended up filing for a personal bankruptcy.  It took her a while to make the decision to so because of being overly confident, but she learned to handle it with a lot of grace. Monaica makes a powerful statement: "Nothing can stop you but yourself."

Her Money Matters Because…
"Prince Charming likely isn't coming in our new world, and you must become your own Prince Charming."
Links:
I want to hear from you!  What was your favorite takeaway from this episode? Please come on over to our community and share with us there.
Abrazos + Much Love,
Jen
P.S. THANK YOU for listening!
Enjoy The Show?
Be sure to never miss an episode:
Share with a friend by using the social media icons below.
Send us feedback via email to support@jenhemphill.com or click here to leave a voicemail.
**Please note I love to give shout-outs to my listeners, so if you'd rather me not mention your email message or play your voicemail on the show be sure to clearly state that, thank you!*