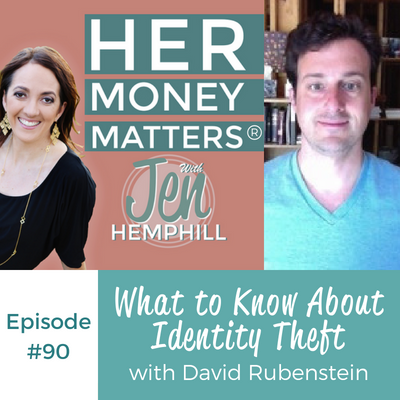 Identity theft is not anything we want to think about, but it happens and we need to be informed about it.  
This week's guest is David Rubenstein and he is going to share with us his golden nuggets about identity theft.  Enjoy!
Listen to the Episode Below
What You'll Learn In Today's Episode:
A golden identity tip you don't want to miss
Chipped cards, are they worth the extra time in line?
The little known trick with google alerts
His Money Story
As a child, David shared he really didn't think about money very much at all.  He saw other kids setting up lemonade stands and doing chores etc. to get spending money – at the time he didn't really have anything he wanted to spend money on.  It was in college where he began to watch his spending on food and other expenses in order to make his money go further.  
Proud Money Moment
An avid reader, David discovered used books on Amazon, and enjoys the savings over buying new.  Although he did not have any money conversations at home, he took time recently to discuss money with his daughters, citing the examples in the book:  Money Doesn't Grow On Trees.
What Inspired David to Focus on Identity Theft
An attorney, David shared a staggering statement that an agent from the FTC shared, some years ago when he was living in Washington, DC:  "In our lives, every American will be lucky if they are a victim of identity theft only one time.  And if you're even luckier, it will just be a stolen credit card number."
It is important to be aware that subconsciously, we tend to think that this is never going to happen to us, which is dangerous, and leaves us vulnerable.
Best Identity Theft Tips
#1 Online:
Use a unique password on every site you visit, using a password manager app such as LastPass.

Establish answers to security questions that are not even relevant to the question such as Teddy Bear, for your mother's maiden name
#2 Offline:
Shred your personal documents

Don't leave your mail sitting in your mailbox

Pull your credit report to monitor activity – free once a year

Check your credit card statements to make sure all the charges are yours

Use credit cards when possible instead of debit cards, as they offer fraud prevention mechanisms  

When using a debit card as a credit card, remember that you do not necessarily have the same protection as a credit card. Check with your bank for clarifications.
Low Cost Options for Monitoring your Credit
Credit cards often offer free My FICO reports.

Put a fraud alert with each of the bureaus.  They are free and good for 90 days and ensures you are contacted before a new account is opened in your name.

Put a credit freeze on your accounts for a small fee.

Set up a Google alert in your name to monitor activity.  

Pay for identity monitoring services which can cost 10-20 per month.

Be mindful of your social security number, and be extremely careful when sharing it. It is also not a good idea to keep it with you.  Memorize it and put it in your safety deposit box.  

Thoughts on chip cards:  

They are generally more secure, however, a lot of smaller merchants have not invested into the new technology to support it which is very expensive

Longer to process at the register.

Pin is not always required.
Her Money Matters because…
"Her money matters because it gives you freedom to spend more time with your children."  ~ David Rubenstein
Mentions
Book:  Money Doesn't Grow On Trees**
Links
Credit Shout:  http://creditshout.com/
Two articles to supplement this topic:
http://creditshout.com/credit-reports/identity-theft-insurance-not-worth-cost/
http://creditforums.com/blog/28-things-you-should-be-doing-to-protect-yourself-from-identity-theft/
To leave me a voicemail:  www.jenhemphill.com/askjen or simply email support@jenhemphill.com
**Please note the link is an  affiliate link so I may receive a small commission if you purchase**
I want to hear from you!  What was your favorite takeaway from this episode? Please share in the comments below or come on over to our community and share with us there.
You can join our community (and receive our weekly newsletters) by grabbing The Daily Dinero Ritual!
Abrazos + Much Love,
Jen
P.S. THANK YOU for listening!
Enjoy The Show?
Be sure to never miss an episode:
Share with a friend by using the social media icons below.
Send us feedback via email to support@jenhemphill.com or click here to leave a voicemail.
**Please note I love to give shout outs to my listeners, so if you'd rather me not mention your email message or play your voicemail on the show be sure to clearly state that, thank you!**