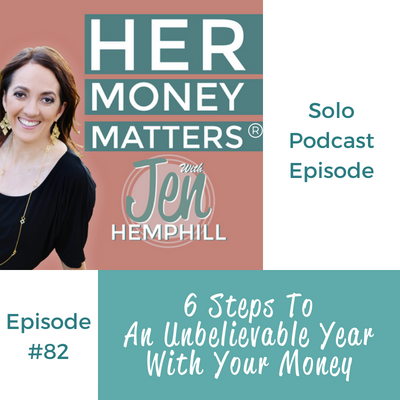 How was your 2016 in terms of your money?
Amazing!  Ugh, I'd rather not talk about it!  I want a do over.  I'm ready to change things.
No matter wherever you are at, you CAN change your situation.
In this episode I share with you 6 steps you can take to make it an unbelievable year when it comes to your money.
You ready?  Go ahead and listen now!
Listen to the Episode Below
Resources From This Episode:
Money Stories podcast episode, Episode 77
Purchase your own copy of the Money Wellness Tracker for only $7 (USD)
Don't forget to share with us how you did over in our own private community.
…and before I forget, Happy New Year!
Abrazos + Much Love,
Jen
P.S. THANK YOU for listening!
Enjoy The Show?
Be sure to never miss an episode:
Share with a friend by using the social media icons below.
Send us feedback via email to support@jenhemphill.com or click here to leave a voicemail.
**Please note I love to give shout outs to my listeners, so if you'd rather me not mention your email message or play your voicemail on the show be sure to clearly state that, thank you!**