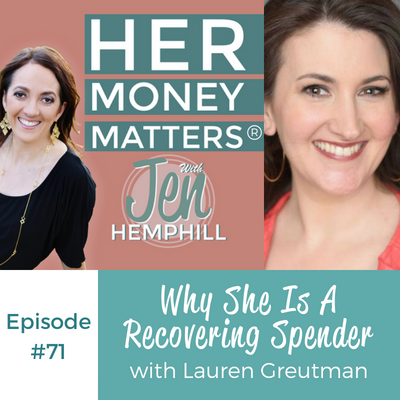 Recovering spender.
This is how Lauren Greutman describes herself.
Why?  Because she became aware of her spending triggers and learned what she needed to do to  manage those triggers.
She has a fascinating story which I know you will love.
Listen to the Episode Below
What You'll Learn In Today's Episode:
Why she doesn't use a credit card, stays away from certain stores and TV shows
Some insight on their home's Money Flow Center and why it exists
The trick behind cutting her grocery bill from $1000/month to $200/month and what resulted from it
How to pay yourself with your own meal planning
Resources From This Episode:
Connect with Lauren:  www.laurengreutman.com
Buy the book The Recovering Spender**
**Please note the link above is an affiliate link so I may receive a small commission if you purchase**
Grab your Jumpstart Your Money Mini-Guide Here
What was your biggest takeaway from this episode?
Abrazos + Much Love,
Jen
P.S. THANK YOU for listening!
Enjoy The Show?
Be sure to never miss an episode:
Share with a friend by using the social media icons below.
Send us feedback via email to support@jenhemphill.com or click here to leave a voicemail.
**Please note I love to give shout outs to my listeners, so if you'd rather me not mention your email message or play your voicemail on the show be sure to clearly state that, thank you!**