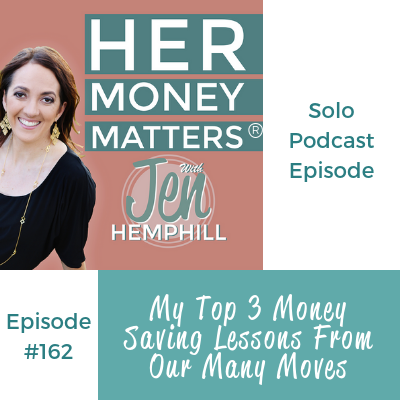 Did you know that according to data from the U.S. Census Bureau, the average person in the United States moves residences more than 11 times in his or her lifetime?
Listen to the Episode Below
What You'll Learn In Today's Episode:
The stats which shows the reality of how often people move and how much it can cost to move

My top 3 money saving lessons from our many moves

Some quick and dirty tips for your next move which save you money.
The Reality of Moving Today
Stats show that you will move. Approximately 28 million Americans move a year. The average cost for these moves is $2,000 to $4,000 for 7400 lbs of stuff within the states. Unfortunately these are not the only costs associated with moving. So what can you do to save some money?
Top Three Money Saving Lesson While Moving
You need to set aside some money for those unexpected expenses. There are unexpected costs each time you move, no matter how many times you move. It doesn't need to be a perfect number, or have to cover all of the unexpected costs. So long as you are prepared, moving costs will be less straining on your finances.

Make sure you follow the claims guidelines if you are using packers. This way if something is damaged you can get compensated. While he was still in the military, Jen's husband moved to Korea, and Jen took the kids to DC. She was new to the area and taking care of everything herself. When packers pack, sometimes what they write on the top is not what was in the box. With this move, they had a lot of stuff missing and damaged. Because Jen was the only one dealing with things, she didn't want to file a claim and find the item later. She took the time to unpack and make a list. She missed the deadline to make a claim by a day, and they wouldn't budge. She lost about $1,000 worth of stuff. Make sure you follow the claim guidelines to ensure this doesn't happen to you.

Talk to the people living in the area. This way you can get the inside scoop on where to go, where not to go, and figure out what goes on in the neighbourhood. You can get the scoop on doctors, daycares, salons, whatever is important to you. Local Facebook groups are a great way to do this as well, and to meet new people.
Quick and Dirty Money Savings Tips While Moving
Moving is a great way to declutter. Donate, sell, or throw away unneeded items. It will save time on packing, and the weight of your total load; this saves you money.

Be aware of the food and cleaning products you purchase before a move. It can be difficult to pack certain food items. Movers won't typically pack cleaning supplies since they are toxic so you will be required to pack these items in your car.  Make sure you have room in your car to do so.

Make sure to look at state laws on taxes. You might find yourself paying property taxes in both states if you move states.

Not all houses are alike – curtains might not fit in the new house. Take your time making your house a home – it doesn't need to be done all at once.

Sometimes depending on where you are going, you might need to invest in new clothing. Jen moved to North Dakota and had to buy warmer clothes and a snowblower. Be sure to buy the stuff off-season to save money. Make sure to plan the purchases ahead of time, and be aware of weather changes.
Resources From This Episode:
How many times does the average person move?
I want to hear from you!  What was your favorite takeaway from this episode? Please come on over to our community and share with us there.
You can join our community (and receive our weekly newsletters) by grabbing The Daily Dinero Ritual!
Abrazos + Much Love,
Jen
P.S. THANK YOU for listening!
Enjoy The Show?
Be sure to never miss an episode:
Share with a friend by using the social media icons below.
Send us feedback via email to support@jenhemphill.com or click here to leave a voicemail.
**Please note I love to give shout-outs to my listeners, so if you'd rather me not mention your email message or play your voicemail on the show be sure to clearly state that, thank you!**
The post My Top 3 Money Saving Lessons From Our Many Moves | HMM 162 appeared first on the Her Money Matters Podcast.