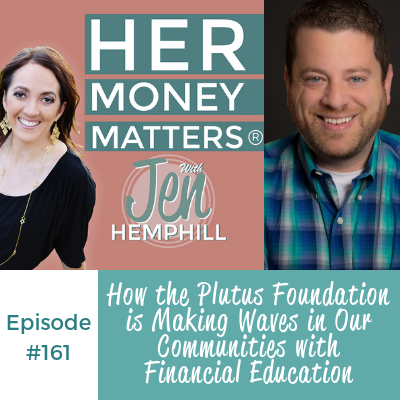 Financial education is such a team effort and non-profit organizations like the Plutus Foundation doing their part in different communities by providing grants opportunities for just this.
Harlan Landes joins us to share with us what the Plutus Foundation is, what they are about and their vision.
Listen to the Episode Below
What You'll Learn In Today's Episode:
The different tiers of Plutus Foundation: Awards, grants, voices
Giving Tuesday
Some behind the scoop of the projects they helped to fund with the grants
How Plutus Foundation differs from non-profits in the financial literacy space
Where Did the Plutus Foundation Come From?
It all started over a decade ago… 15 years ago Harlan started his financial blog. At that time, the financial blogging and podcast community was a lot smaller. What Harlan really wanted to do was get people to collaborate and work together. So he created an awards ceremony, that would not only get people together, but also give those people global exposure. So, the Plutus awards were born. It gave everyone in the community a chance to show what they liked, what they brought to the table, and who those people were. Once Fin-Con was created, they had an actual awards ceremony, and Plutus grew. Afterward, Harlan wanted to dedicate his time to promoting financial literacy.
The Grant Piece
The first Plutus grant was awarded to Eva Baker. She was only 17 when she started her website, and it quickly became the hotspot for teens to learn about finances. She wanted to take the message she perfect online to the streets. She wanted to allow teens to get hands-on experience. So Eva made a series of classes that she could come back and, over time, help the teens with their financial lives. It was more involved than the typical financial class in college or high school.
Amanda Grossman, a money prodigy, was another grant recipient. She wanted to spread her Mount Everest money simulation to teach students about money. The students work to get a climber up to the top of Mount Everest using budgeting.
The Future of Plutus
Plutus' main audience is financial media –  everyone that produces information about finances. They want to allow these people to interact in person in order to teach money literacy. Plutus wishes to spread the program EconBeats, a grad project, to more schools through grants. The program is a curriculum for personal finance with an incorporation of music.
The 10th annual Plutus awards are planned for 2019. They are looking to make it bigger and better, and with more grants. Plutus usually awards up to $5,000-8,000 worth of grants, but they are hoping to increase that number this year. Earlier this year they had the first preview for Plutus Voices in New York. This program will give the opportunity to have networking for financial media. Bloggers and podcasters get to chat and collaborate together.
Giving Tuesday
The Plutus Foundation is a non-profit. They are looking to raise more money for more project grants, and bring more literacy to more people. The reason they started the program was because they knew they could do things differently than the other financial literacy organizations. In order to raise money, they are hoping to have a facebook live marathon on Giving Tuesday with featured speakers like Eva Baker, J.D Roth, Jason Vitug, and other bloggers talking about the importance of financial literacy. The marathon will take place Giving Tuesday on the Plutus facebook page, from 9am – 2pm Mountain time. Plutus would love to raise $10,000 this season, and involve as many people as possible. Increasing the budget will allow them to do so, and further spread financial literacy.
Resources From This Episode:
I want to hear from you!  What was your favorite takeaway from this episode? Please come on over to our community and share with us there.
You can join our community (and receive our weekly newsletters) by grabbing The Daily Dinero Ritual!
Abrazos + Much Love,
Jen
P.S. THANK YOU for listening!
Enjoy The Show?
Be sure to never miss an episode:
Share with a friend by using the social media icons below.
Send us feedback via email to support@jenhemphill.com or click here to leave a voicemail.
**Please note I love to give shout-outs to my listeners, so if you'd rather me not mention your email message or play your voicemail on the show be sure to clearly state that, thank you!**
The post How the Plutus Foundation is Making Waves in Our Communities with Financial Education | HMM 161 appeared first on the Her Money Matters Podcast.