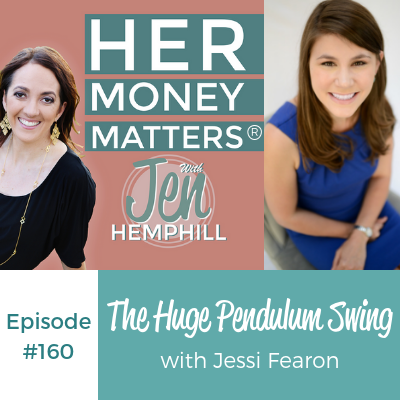 Life has it's interesting twists and turns. At one point in her life Jessi Fearon was a spender, she wanted all the things and got herself in a bit of debt.
After getting married and deciding she had enough of debt she went from being a "spender" to living a really frugal lifestyle.
Jessi shares that and more, get ready!
Listen to the Episode Below
What You'll Learn In Today's Episode:
What resulted from seeing two very different examples of managing money

How her family ended up paying off $55k in debt in 3 years

Why her family became a one income family

Her golden piece of advice of what success looks like
Jessi's Money Story
Jessi grew up in a frugal household. Her mother was the 4th out of 5 children in a middle-class family, and her father grew up in a lower-end class. Her mother used to buy play checkbooks for Jessi and her brother. When she was 12, Jessi's mother would write out their allowances on play checks, and if they wished to spend money on something, they would have to budget it, and write out a check from the play checkbook. So Jessi knew about budgeting. Her father, on the other hand, enjoyed over spending his money, since he had never been able to buy expensive things while growing up. Her parents had similar beliefs, but different opinions.
When Jessi turned 16, she had her first job, and her mother helped her open her first savings account. She knew from a young age that saving was important, but she ended up taking after her father. At this point in her life, Jessi's parents had divorced. She could see the stark difference between her mother's extreme frugality and her father's over-spending.
By the time she was 21, Jessi had accumulated $11,000 in credit card debt. It was at that point she was grateful for all the budgeting advice her mother had given her growing up. It was at that moment she decided she needed a change; she went from one extreme to another. At the time, she was living in a very nice apartment that she could not afford. She sat down for the first time and made up her own budget. Through her budget making she figured out how to afford her lifestyle. The pendulum swing from one spending extreme to another helped Jessi learn that finding a middle ground between frugality and luxury is crucial.
When Jessi got married, she was still in college, and still paying off her debt. Her husband brought his own debt to the table, and Jessi knew of the student loans looming in the distance. After a few years and a child later, they realized that Jessi could not be a stay-at-home mom without paying off their consumer debt. In 3 years they managed to pay off $55,000 of debt and were debt-free.
How Did Jessi and Her Husband Stay Motivated?
Early on in their debt-paying grind, Jessi and her husband got tired. They felt as though they were not living. So they took a month off of debt paying to have little luxuries, like eating out for dinner every once in a while. They still paid their minimum payments to ensure they stayed on track. The break was necessary for them to recharge so they were able to get right back to paying off their debt.
One income family
When Jessi got married she was a project manager for an engineering company and her income was slightly more than her husbands. It was when they got pregnant, however, that they decided it would be better for Jessi and the baby if she was a stay-at-home-mom. This was before they were debt-free so they knew they needed to make a change. They started by putting Jessi's income into a savings account. Within a couple of months they were living like her income was non-existent. They managed to make it work, and they have been a single income family since 2012. It is important to know that the expenses can match up with that one income before making the transition. Not everyone can do that.
Money Management
In her family, Jessi is the money manager, but her husband still has a voice in decisions. Together they talk about their goals, and future expenses. She is in charge of making the budget, and her husband modifies it.
Best Money Spent
Jessi says her best money spent was on her Shark Navigator vacuum. With the kids and dogs, she uses the vacuum a lot. Before she would always purchase the cheap vacuums, but they would fall apart after a few months. During the time of their debt-paying journey, Jessi got fed-up and decided to buy the expensive vacuum. The purchase, although a stretch during the time, quickly saved her money since she no longer had to buy numerous vacuums. She still has it, and it is running great.
Jessi's Greatest Inspiration
When Jessi's Papa died at 90 years of age, he left her Nanny $80,000 strictly for buying their children and grandchildren gifts. Her grandparents had never been wealthy or had much to spare, but the fact that her grandfather had managed to pay off everything and still have $80,000 leftover strictly for gifts really inspired Jessi. She hopes to be able to do the same for her own family.  
Jessi's Advice
Do not fall into the trap that success has a "look". Success is all about who you are and the actions you take. She fell into the trap herself, and she had to work hard for three years to get out of the consequences.

"Her Money Matters because her legacy matters."
Resources From This Episode:
I want to hear from you!  What was your favorite takeaway from this episode? Please come on over to our community and share with us there.
You can join our community (and receive our weekly newsletters) by grabbing The Daily Dinero Ritual!
Abrazos + Much Love,
Jen
P.S. THANK YOU for listening!
Enjoy The Show?
Be sure to never miss an episode:
Share with a friend by using the social media icons below.
Send us feedback via email to support@jenhemphill.com or click here to leave a voicemail.
**Please note I love to give shout-outs to my listeners, so if you'd rather me not mention your email message or play your voicemail on the show be sure to clearly state that, thank you!**
The post The Huge Pendulum Swing with Jessi Fearon | HMM 160 appeared first on the Her Money Matters Podcast.