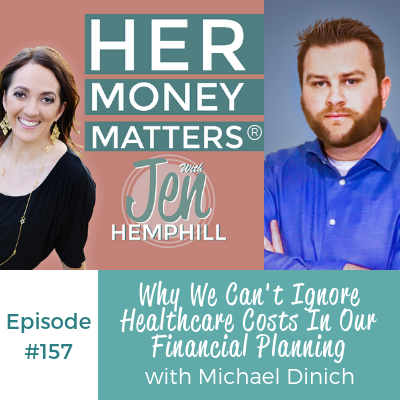 Health care if we aren't dealing with it on a day to day basis is an area we tend to ignore when we look at a our finances. The fact of the matter is that our health can change from one day to another so we need to be prepared for it.
Today's guest Michael Dinich helps us maneuver this area as it pertains to our financial life.
Listen to the Episode Below
What You'll Learn In Today's Episode:
Money in relation to time and what we need to be aware of

How to reduce your health insurance cost

What you can do to determine if you have adequate health insurance

How to maintain insurance if you retire early
Michael's Money Story
When he was quite young, Michael's parents developed their own business. He would often go for rides with his father to go visit clients. On those drives, Michael's father would share knowledge about money, what he was doing for his clients, and why he was doing it.
Michael's parents had a unique perspective on money. The first financial book they ever gave him was The Millionaire Next Door. The biggest lesson that Michael's parents taught him was the value of hard work. If you want something nice, it is nothing to feel guilty about. Simply put in the work. Sometimes people believe extreme frugality is necessary to grow wealth, but it is really about balance. You don't have to feel guilt for having nice things.
Michael described money as a representation of moments in life that will be used to create a better future. Money is earned from time spent. So wasting money means wasting time, and you can't get it back. Thinking this ways makes you think about how much time you would like to spend on something in order to get it.
Michael suggests focusing on strategies to limit unnecessary expenses, and to protect retirement savings. Michael mentioned how his grandfather had passed away at the age of 76. He had only been retired for a few years. If he hadn't have prepared and protected his retirement savings, Michael's grandfather would have lost the time he got with his family.
Health Insurance. Where to Start?
Healthcare and Insurance are the largest expenses a family has after mortgage and taxes. So, if you can lower those costs, you can save more money. Michael's father always says, "insurance is like a piece of coal in your pocket. When you really need it you find out it is a diamond." Healthcare costs are one of the most common causes for bankruptcy. Most of the time it is not because people didn't have insurance, but rather that it wasn't adequate.
The Affordable Care Act (ACA) has made insurance costs effective since it is subsidized by the government based on your taxable income. So if taxable income is reduced, insurance costs will go down as well. It is not just a function of reducing the taxable income to increase the subsidies, but also, if taxable income can be kept within a threshold, it can modify the deductibles and out of pocket costs for healthcare. ACA can be difficult for DIYers, however, since the Act is different in each state or county. It is important to get professional help to maximize your possible benefits.
Adequate Health Insurance
Managing your health insurance costs, requires that you make a budget.  This will allow you to understand your finances. You must also be honest about how much you could comfortably spend if a health issue arises. Paying for healthcare can snowball into many other debts, so it is a good idea to start with more insurance than necessary. It is also a good idea to start building a reserve fund, and as its assets increase, to increase the deductibles as well. A Health Savings Account (HSA) is one of the best savings vehicles out there right now, and you can get tax refunds with it. Money can be taken out of it without taxes for qualified healthcare costs, and by 65 the money can be used for retirement income. If you are already maxing out your HSA, Michael suggests thinking about saving more in a proper savings account.
Entrepreneurs have more options than just the ACA. Employers have the option of using self-paying plans if they have only a few employees. By doing so, entrepreneurs can save 30-40% on their insurance premiums.
Maintaining Health Insurance with Early Retirement
The ACA benefits people who want to retire early as it has charge caps based on age. This means older individuals are charged less, and younger individuals are charged more. The subsidies are based on modified adjusted gross income, not assets. If your assets are adjusted to produce tax advantaged income, you can retire early and save on insurance costs.
Steps Towards Security for Women
Financial matters affect women differently, but financial issues don't care about gender. Michael advises getting advice from a good planner who understand your current situation. For instance, there is a difference between a breadwinning mother and a stay-at-home mother, hence they would not get financial advice from the same person. Jen also mentioned that personal finance is personal. It is necessary to think about the advice, but to apply it to your life in your own way.
Good financial planning is not about what goes right. Michael sees importance in considering what could go wrong, and how thing will hold up if they do go wrong.
Resources From This Episode:
**Please note the link is an  affiliate link so I may receive a small commission if you purchase**
I want to hear from you!  What was your favorite takeaway from this episode? Please come on over to our community and share with us there.
You can join our community (and receive our weekly newsletters) by grabbing The Daily Dinero Ritual!
Abrazos + Much Love,
Jen
P.S. THANK YOU for listening!
Enjoy The Show?
Be sure to never miss an episode:
Share with a friend by using the social media icons below.
Send us feedback via email to support@jenhemphill.com or click here to leave a voicemail.
**Please note I love to give shout-outs to my listeners, so if you'd rather me not mention your email message or play your voicemail on the show be sure to clearly state that, thank you!**
The post,Why We Can't Ignore Healthcare Costs in Our Financial Planning with Michael Dinich | HMM 157 appeared first on the Her Money Matters Podcast.