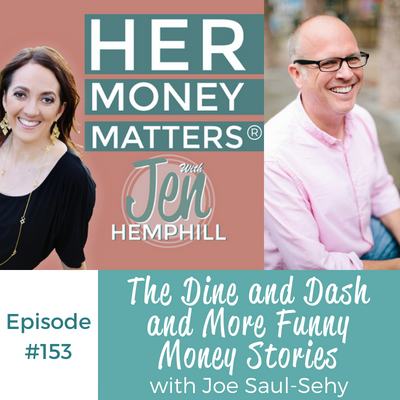 Life brings us all sorts of experiences some scary, some fun, some awkward but in the end they usually become funny stories. The funny man himself, Joe Saul-Sehy comes back to share with us some of his funny money stories and the lessons he learned from them.
Listen to the Episode Below
What You'll Learn In Today's Episode:
You will hear the dine and dash story experience he had with his dad and brother, the adventure with the rental car at Yellowstone, a client story and more!
The Dine and Dash
One Christmas Eve when Joe was 9, his father took him and his brother to the mall to get their mother a last minute christmas gift. After grabbing many random items and asking his sons "Would she be offended by this," Joe's father left the mall without a gift and took his sons out to Pizza Hut for lunch instead. After they enjoyed their meal, Joe's father went to grab his wallet, and realized his pockets were empty. He leaned across the table, and looked Joe's brother in the eye, "I need you to go to the bathroom, count to 10, then quietly go to the backseat of the car and buckle yourself in." Joe's brother proceeded to do as he was told. Once he was safely in the car, Joe's father turned to him and said, "I need you to go to the bathroom, count to 10, then quietly go to the backseat of the car and buckle yourself in." Greatly confused, Joe asked why, and his father replied with "Just do it." Joe proceeded to do ask he was told. Once he was in the backseat with his little brother, they both watched as their father burst out of Pizza Hut, running full speed, flew in the car, and tore out of the parking lot. Joe's father had forgotten his wallet.
Years later, at Joe's dad's retirement party, Joe told the story of the Pizza Hut dine and dash. His father got so mad.
Jen once had a similar experience when she and her family were out on a road trip. Jen had forgotten to check for cash in her wallet before they left, and they quickly came across a cash only toll. As they crept closer to the window, Jen and her husband scrambled to find $5 worth of change. Moments later her son called from the backseat, "Mom, I have $20."
The Yellowstone Trip
Anticipating his family trip to Yellowstone, Joe searched for a deal in car rentals. He came across Enterprise, which was considerably less expensive compared to the other rental companies he had found.
Upon the day of their trip, Joe was dropped off at Enterprise. While filling out the paperwork, Joe was asked to sign a waiver. He started to sweat. The waiver specified that the renter agreed to keep the car within the states of Michigan, Indiana, Illinois, and Ohio. They were supposed to leave that day, and Joe had carefully budgeted the whole trip. They had bought tickets, and made non refundable reservations. He paused, then signed.
Joe insisted on packing the rented Ford Explorer himself, for fear it might get damaged from their camping equipment and he'd have to pay for his sin. After many miles of fear and worry, Joe's family had a lovely trip, and began their journey home. That was when Joe realised the mileage. Their trip had been far more extensive than a trip within the allowed four states from the contract. Joe started to sweat again.
After doing the math, Joe determined his cover story would be that he helped his brother move to upper peninsula Michigan, and they had to make six trips. The time came to return to Entreprise. The woman behind the desk asked about the car and their trip. All was fine, then she went to check the car. She checked for dents, scratches, and… the mileage. His heart beating out of his chest, Joe remembered his cover story. The woman came back, looked at joe and said, "The car looks great! Have a good day."  
Joe's lesson to himself: If he would have recognized that one car rental was much less than the others, and read the fine print, he would have realized he wasn't comparing apples to apples.
"Entertainment"
In his financial advisor days, the usual comment Joe heard from his clients is "I bet you haven't seen this before." Joe's usual reply is "Trust me, I've seen weirder."
Joe was sitting at a meeting with his new clients Teresa and Wayne. They were showing Joe their new budget. Upon inspection, Joe noticed there were amounts specified for vacations, gifts, movies out, and restaurants out separately. The most quizzical entry was the $500 they had allotted to "entertainment." Knowing Teresa and Wayne did not have a large budget, Joe asked them about the $500 in question, and whether they could make cuts. Clamming up, Teresa looked at Wayne and said, "We should not have put that there." After exchanging nervous glances, Joe had to know what "entertainment" was. He explained that it did not matter what is was, but that he needed to know so he could figure out their budget. After some back and forth, Teresa blurted, "It's for pot."
Check Art
When Joe's kids were in elementary school, his clients often wrote checks to pay for his services. As a result, Joe really got into check art.
Books fairs were always at the end of the parent teacher conferences. For three years, Joe had sat next to a man named Dick at his daughter's soccer games. After meeting with his kids' teachers, Joe found himself behind Dick and his wife, Sue, in line at the book fair. Interested in check art as he was, Joe looked over Dick's shoulder to get a better look at the check Sue was holding. That was when Joe read "Mark and Sue" as the names on the check. For the last three years, Joe thought Mark's name was Dick, and Mark had never corrected him.
Stacking Benjamins Tour
Joe's podcast, Stacking Benjamins, is usually recorded in Joe's mother's basement. However, many of his listeners say it should be a live show. Joe and his co-host took that to heart; You can find their tour schedule here. Tickets are $10.
Resources From This Episode:
Stacking Benjamins Tour Schedule
I want to hear from you!  What was your favorite takeaway from this episode? Please come on over to our community and share with us there.
Abrazos + Much Love,
Jen
This episode is sponsored by our friends over at Care/of vitamins! Use the code HERMONEYMATTERS to get 25% off your first month of personalized Care/of vitamins at TakeCareOf.com. 
P.S. THANK YOU for listening!
Enjoy The Show?
Be sure to never miss an episode:
Share with a friend by using the social media icons below.
Send us feedback via email to support@jenhemphill.com or click here to leave a voicemail.
**Please note I love to give shout-outs to my listeners, so if you'd rather me not mention your email message or play your voicemail on the show be sure to clearly state that, thank you!**
The post HMM 153: The Dine and Dash and More Funny Money Stories with Joe Saul-Sehy appeared first on the Her Money Matters Podcast.