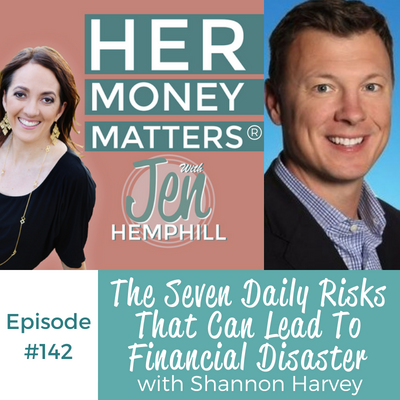 Insurance is not anything we like to pay for, but it is essential to protect the wealth we have built and to prevent financial pitfalls. Shannon Harvey, a Trusted Risk Advisor talks to us about insurance and what we need to know so we can protect ourselves.
Listen to the Episode Below
What You'll Learn In Today's Episode:
The seven daily risks we all face that can lead to financial disaster

The exact solutions that can prevent financial disaster

One key factor to not ignore when it comes to car insurance

The biggest mistake when it comes to life insurance
Shannon grew up with both his parents and grandparents as mentors. From a very early age, Shannon learnt the importance of starting work early, and saving money for unexpected accidents. He grew up knowing to hope for the best, and prepare for the worst.
Work as a Risk Advisor
As a risk advisor, Shannon works with his clients to ensure they understand the seven daily risks and how to financially prepare for a disaster. In order to ensure the best security for his clients, Shannon addresses his clients' weaknesses and educates them on potential solutions. Due to the need for licenses, Shannon will also refer his clients to other professionals that can help them when he cannot.
Seven Daily Risks
Car accident

Liability

Health

Outliving savings

Disability

Home Insurance

Life insurance
Risk Preparation in Action
Several years ago, one of Shannon's friends got into a serious car accident; he was T-boned by an oncoming car and pushed into two others. He was charged for the accident, and therefore was required to pay $600,000 in medical bills and liabilities. Luckily, Shannon's friend had put in place a personal umbrella policy, and was able to pay for the expenses without any financial impact.
Getting out of the driveway is the biggest risk. Many have been programmed to find auto-insurance with the lowest payment, while Shannon suggests finding the company with the highest liability limit. This way, if, like Shannon's friend, an accident turns into half-a-million dollars in payments, you are covered.
The Importance of Knowing Policies
The most common problem amongst the general public is the lack of life insurance. Most obtain life insurance through their employment, without knowing the full extent of their coverage. Usually, coverage goes as far as 2-3 times their yearly income. Shannon suggests obtaining life insurance, with coverage of 7-10 times your yearly income, outside of work. This ensures that coverage is still available even if the job is lost, or the life insurance is unable to be transferred during a position change.
How to Avoid Financial Disaster
Shannon first thought of writing his book, How to Avoid Financial Disaster while listening to a podcast. In the podcast, it was mentioned that most individuals want to write a book, but never get around to doing it. The podcast, therefore, suggested one writes their book on what they are commonly asked about.
Shannon's book describes the 7 daily risks in detail. Since stories are more frequently remember than definitions, Shannon included a story for each daily risk.
Resources From This Episode:
Shannon's book: How To Avoid Financial Disaster Yourself**
Your copy of My Daily Dinero Ritual 
**Please note the link is an  affiliate link so I may receive a small commission if you purchase**
I want to hear from you!  What was your favorite takeaway from this episode? Please come on over to our community and share with us there.
Abrazos + Much Love,
Jen
This episode is sponsored by our friends over at FabFitFun! Use the code HERMONEY to get $10 off your first box over at  www.fabfitfun.com. 
P.S. THANK YOU for listening!
Enjoy The Show?
Be sure to never miss an episode:
Share with a friend by using the social media icons below.
Send us feedback via email to support@jenhemphill.com or click here to leave a voicemail.
**Please note I love to give shout-outs to my listeners, so if you'd rather me not mention your email message or play your voicemail on the show be sure to clearly state that, thank you!**
The post, HMM 142: The Seven Daily Risks That Can Lead To Financial Disaster With Shannon Harvey appeared first on the Her Money Matters Podcast.