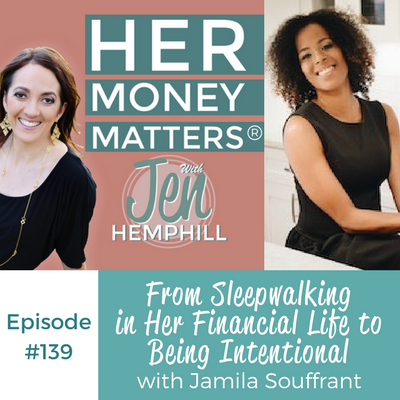 Have you ever felt like you have been walking blindly with your money? Yes, I have been there too. This week's guest Jamila Souffrant shares with us how at one point in her life she went from sleepwalking in her financial life to being intentional. This intentionality changed her financial life for the better. You will hear how and why in this episode.
Listen to the Episode Below
What You'll Learn In Today's Episode:
How at 14 years of age she decided she was going to learn how to be rich and how the meaning of "rich" changed over time

What she did to change the sleepwalking she was doing in her financial life in her early college years

How during college she was able to save 90% of her money
Jamila's Money Story
Jamila's mother and grandmother came to the US from Jamaica. In the beginning, they did not have much to start with; her grandmother worked as a nanny, and her mother worked several fast food jobs while going to school as a single mom. Growing up, Jamila did not have many material things. Instead, her mother provided her with experiences, such as going to the museum on free days, going to the library, and enrolling her in swimming and gymnastic lessons. Jamila obtained a strong work ethic by watching her mother and grandmother at work. They had few discussions regarding money management, but watching her mother gave her a good financial understanding, and influenced her to be wise in her spending. Jamila started saving money at 14 with her first job.
Life After College
After graduating college, Jamila described herself as "sleepwalking" through her finances. Despite saving almost 90% of her money during college as an intern, she was not intentional with her finances. She purchased her first home (her best investment) in her early 20s, but did not know what to do with the rest of her money. It was after getting married and having kids that Jamila wanted to be more intentional with her spending. Her new motivation was to provide for her children, and to support the life she wanted. On her way home from work one evening, she got stuck in heavy traffic. Her usual commute home without traffic was already 2 hours long. This particular day, Jamila drove for 4 hours before finally reaching home. It was at that moment that she realized she no longer wanted to depend on her corporate job for financial stability. It pushed her to research financial independence and to determine a future plan for her family.
Jamila's Influence to Enter the Financial Literacy Movement
When Jamila began researching financial podcasts, she decided to start a blog. Her podcast, Journey to Launch, started as a platform where she could share her discoveries on financial independence with the world. She quickly received great feedback from her audience and decided to expand her efforts to help others with their financial goals. She got a teaching certification, started her podcast, and create a program she could happily retire into.
How Jamila and her family saved $93,000
Living in New York has a high cost. Jamila has a high paying job, and her husband works as a teacher. They maximize their income and save as much as possible to reach their financial goals. As a teacher, Jamila's husband has access to 2 tax retirement accounts. Upon realizing this, they determined how they could funnel as much money into their 3 retirement accounts as possible, while budgeting the rest. By doing so, they maxed out their retirement accounts, and figure out a way to invest while still keeping enough money to support their lifestyle.
Managing money at home
At home, Jamila is the main money manager. However, he husband is supportive, and trusts her vision. They constantly communicate about their finances, and figure things out together; it is a joint effort. Jamila simply crunches out the numbers.
Financial independence defined: Not having to depend on a paycheck from an external job or money provided by someone else; having enough money from investments to support lifestyle.

"Her Money Matters because she matters."
Resources From This Episode:
Learn more about Jamila: Journey To Launch
Grab your FREE copy of My Daily Dinero Ritual by CLICKING HERE
I want to hear from you!  What was your favorite takeaway from this episode? Please come on over to our community and share with us there.
Abrazos + Much Love,
Jen
P.S. THANK YOU for listening!
Enjoy The Show?
Be sure to never miss an episode:
Share with a friend by using the social media icons below.
Send us feedback via email to support@jenhemphill.com or click here to leave a voicemail.
**Please note I love to give shout-outs to my listeners, so if you'd rather me not mention your email message or play your voicemail on the show be sure to clearly state that, thank you!**
The post, HMM 139: From Sleepwalking in Her Financial Life to Being Intentional With Jamila Souffrant appeared first on the Her Money Matters Podcast.