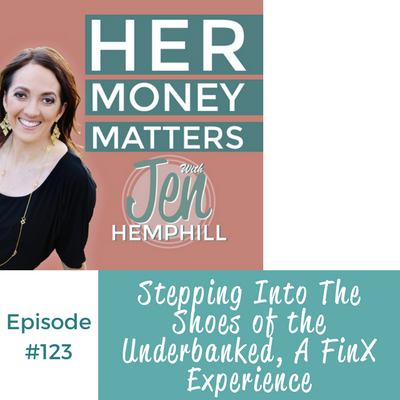 Recently I had the opportunity to step into the shoes of the financially underserved along with two teammates Brynne Conroy and Crystal Hammond. It was an experience that opened up our eyes to the issues of those underbanked.
In this episode, we break down our experience and share what we had to do, the challenges we faced and the lessons we learned. Plus, you will learn why we were happy about some bananas!
Listen to the Episode Below
Stepping Into The Shoes of the Financially Underserved – The Exercise
Myself and two teammates got to step into the shoes of the financially underserved and experience what they experience each time they have to do a financial transaction. We had two hours to do the exercise – and that was on our "lunch" break.
We had some lunch and made our way out to cash some checks (personal and payroll) without a bank account, as well as purchase a prepaid card and load it, buy some art supplies for our niece's birthday, send money to our sister, purchase a money order, inquire about savings accounts and get quotes online for disability insurance.
In the two hours plus, here is what we accomplished:
Our first thought was to go to Walmart. Even though we were not permitted to do everything in one place we knew we could get a great deal accomplished there in a short amount of time. Turns out all the other teams were thinking like we were. When we got there, the line was so long, we decided to walk over to the nearby Chase Bank branch.
At the Chase branch, where the check was drawn on, we were able to cash the $15 personal check. However, we were not able to cash the payroll check because we didn't have an account at Chase, and it was drawn on another bank. They would have to wait several hours to be able to confirm that the money was actually available, and we didn't have time to wait. Because the personal check was under $50, we did not have to pay a fee for cashing the personal check, but if we had been able to cash the payroll check, there would have been an $8 fee.
Because we only had $15 dollars, we were not able to send our sister the $30 money order towards our niece's birthday. We were also not able to purchase the art supplies for our niece as we were unable to get a prepaid card. When we tried to get the prepaid card with enough funds to pay for the art supplies, we initially inadvertently chose a card that had a $20 minimum, and we only had $15 dollars from the personal cheque. So we had to go and get another card and wait in line again. Once at the register, we were told that we had to reload the card at the service desk. So on to another line to wait once again.
At the service desk, we were told that we had to call the number on the back of the card to activate it. On the call to this overseas company, they asked for a ton of information including social security number, name, email address, home address, phone number etc. to validate it, and all of this for a $10 reloadable card. On top of that, each transaction costs $1 which leaves even less available. The last straw was that we had to wait 30 minutes for the card to activate. By the time we finished getting the reloadable card, our lunch break was over.
Our time now was eating into our hourly wage at our part-time job. But we still had important tasks to do. Our figurative furnace had been leaking so we had to get store credit options in case it broke. We found out at the cash store that if we needed to borrow $500 it was going to be a 6-month loan, at a huge APR…
We then returned to Walmart to try and cash the payroll check, and they wouldn't cash it because Chase had stamped and endorsed it… So we ended up buying a bunch of bananas – the only thing we had to show for our efforts.
All of us came away very frustrated and overwhelmed, but having learned a great deal.
Here are our key takeaways:
Brynne's thoughts:
Time is an important commodity – for all the time it took to do the tasks we needed to do, we cut into our hourly wage as well.
Although she expected it to be frustrating and difficult, she never expected to feel totally defeated and exhausted.
Crystal's thoughts:
We wasted so much time waiting in lines only to find out we were in the wrong line, or we had the wrong item… Obstacle after obstacle made this exercise extremely difficult.
Jen's thoughts:
The exercise really hit home, and I realized just how difficult it is for the people relying on these services, and how it can limit their growth into higher income brackets. All the fees associated with banking are excessive as well.
All in all, the exercise was eye-opening and one we will never forget.
Links and Resources:
You can read more about all the research CFSI has done by clicking here.
Brynne wrote about the FinX experience as well and includes some pictures (and you can check out her website while you are at it)! You can check it out here.
Learn more about Crystal by clicking here.
Abrazos + Much Love,
Jen
P.S. THANK YOU for listening!
Enjoy The Show?
Be sure to never miss an episode:
Share with a friend by using the social media icons below.
Send us feedback via email to support@jenhemphill.com or click here to leave a voicemail.
**Please note I love to give shout-outs to my listeners, so if you'd rather me not mention your email message or play your voicemail on the show be sure to clearly state that, thank you!*