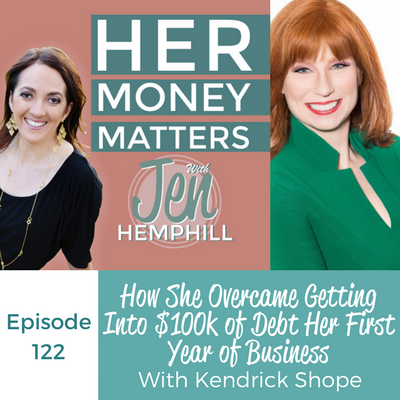 Can you fathom getting into $100,000 in debt within one year in business? This is exactly what happened with Kendrick Shope. In this episode, she shares us this story along with her love of spending and the lessons she learned along the way. 
What you'll learn about in today's episode:
How the giving away of the bride portion of her wedding involved AMEX

Why she butted heads with her husband for years and how that has changed

How she got 100k in debt her first year in business and what resulted from it

The story of a woman venture capitalist that hit it big and what we can learn from it

Who we have traditionally learned from and the impact that can have
Listen to the Episode Below
Kendrick's Money Story
Kendrick grew up in a very small rural town in East Tennessee.  Her parents were both hardworking white collar workers – her mom was a school teacher and her father worked his way through a foundry to eventually buy the company.  She had a great life with lots of opportunities including travelling to Europe.
When her father decided to buy the company, he called for a family meeting.  In this meeting he said something Kendrick would never forget:  "Scared money won't make money".  While she can't say that it always served her, it did greatly influence her ideas about money.
She shares how she never thought she had a money story until she got married.  Then she had to live on a budget, and found it very difficult.
Growing up, when she was really young, money was quite tight.  She got her first check book and job while she was in high school.  But admittedly, she bled through money like crazy.  Her father gave her an American Express card and she used it… a lot.  In fact, on her wedding day, as her father walked her down the aisle at her rehearsal, and the officiant asked who give this woman away, her father responded:  "Her mother and I and American Express."
As a married woman, she and her husband butted heads for years over money.  Incrementally, she made some small shifts – make more money, which wasn't always fun.  She learned that saving is really nice for when the washing machine broke or the roof caved in…  But then she started her own business, and used up all the cushion.
Kendrick's Business Money Story
In the first year of her business, Kendrick fell 100k in debt.  And the subsequent years were really difficult.  But in her 5th year, she hit 7 figures.  She and her husband no longer have debt, and have a nest egg.  She understands the nest egg is important, and does not want to spend it. 
Kendrick shares her view that everyone is in sales – we all are in the business of persuasion. But men and women are different.  Men typically like to sell through confrontation.  They also like to be right.  As such, men deal with finances differently then men.  Women on the other hand, don't want to rock the boat.  They prefer to keep things amicable, avoiding confrontation. 
Kendrick shared a story of a woman who was a venture capitalist and used her differences with a room full of men in order to sell them on the dry bar to a group of bald men. Figuring out how you are different, play your strengths, and knowing the objections in advance will help you when negotiating a raise for example.  
Back in the day, women only had men to show them how to do things such as selling, marketing and business in general.  And these were not necessarily the way that women would excel at.  By women using their strengths and natural instincts, they bring something different to the table, and gives them more confidence in pursuing their goals. 
Her Money Matters because….
"Money is the currency from which we move through life.  It's the "Her" in Her Money Matters.  It's that it is OK to be the smartest person in the room and to manage money differently then the men that came before, according to what works for you." 
Listener Shout-Out
This week, the shout out goes to Christina for being so diligent about saving for her future car. She recently shared that she was going to purchase a new-to-her car with the cash she saved in her account specifically for this car purchase. Way to go Christina!
Links and Resources:
Authentic Selling FB Community
If you are ready to dive into 1:1 coaching click here to apply
I want to hear from you!  What was your favorite takeaway from this episode? Please come on over to our community and share with us there.
You can join our community (and receive our weekly newsletters) by grabbing The Daily Dinero Ritual!
Abrazos + Much Love,
Jen
P.S. THANK YOU for listening!
Enjoy The Show?
Be sure to never miss an episode:
Share with a friend by using the social media icons below.
Send us feedback via email to support@jenhemphill.com or click here to leave a voicemail.
**Please note I love to give shout-outs to my listeners, so if you'd rather me not mention your email message or play your voicemail on the show be sure to clearly state that, thank you!*