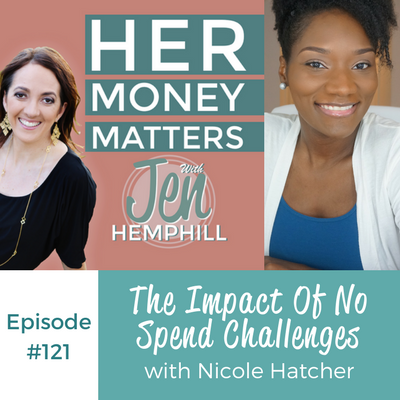 Have you heard of "no spend" challenges? It is a way to temporarily stop spending money to inject some cash flow in your financial life. This week Nicole Hatcher not only shares how she has incorporated "no spend" challenges into her life, BUT her fabulous debt pay off story as well.
What you'll learn about in today's episode:
The exact steps she took to pay off $90k in 6 years

Why she has an "I deserve it fund" and how that has helped her

What kind of "no spend challenges" she has done and what has resulted from it.  

Why being hypervigilant with her budget has posed a challenge for her
Listen to the Episode Below
Nicole's Money Story
For Nicole, she grew up in Baltimore, Maryland and her parents had her at a very young age. Her parents worked blue collar jobs while growing up. Even though Nicole's parents didn't sit her down and have a money conversation with her, she did learn a lot of valuable lessons while growing up and observing her parents. The first being, she learned the value of hard work. Early on, Nicole also learned the difference between needs versus wants and being able to pay out of pocket and not relying on credit to live the life you want.
Nicole's Debt Pay-off Story
Nicole's debt consisted of student loan debt. She admits to me that she made the mistake of financing a car and racking up student loan debt. Since she lived in an inner-city, she looked at education as a way to better her situation. Nicole gathered $30K in just her undergrad alone, but she was so focused on accomplishing her educational goals that she didn't want to tally up the final number until graduation. How did Nicole payoff $90K in 6 years? She did the following:
Started budgeting consistently

Increased her income

Didn't elevate her lifestyle

Challenged herself with various "no spend" challenges

Her Money Matters Because…
"It's a tool to live the type of life you want to live."
Links:
Frugal Chic Life YouTube Channel 
Click Here for YouTube video mentioned in episode: 
If you are ready to dive into 1:1 coaching click here to apply
I want to hear from you!  What was your favorite takeaway from this episode? Please come on over to our community and share with us there.
Abrazos + Much Love,
Jen
P.S. THANK YOU for listening!
Enjoy The Show?
Be sure to never miss an episode:
Share with a friend by using the social media icons below.
Send us feedback via email to support@jenhemphill.com or click here to leave a voicemail.
**Please note I love to give shout-outs to my listeners, so if you'd rather me not mention your email message or play your voicemail on the show be sure to clearly state that, thank you!*