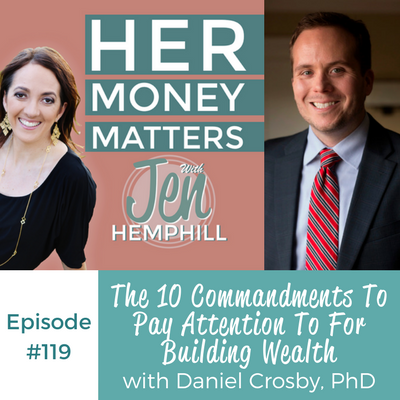 In this episode we are chatting with NYT Bestselling Author Daniel Crosby, PhD and it is a jam packed episode!
He is so giving in this episode as you will see as he brings a different approach on how we look at our money which I absolutely love.
What you'll learn about in today's episode:
Why debt was a forbidden word in his household growing up

How willpower is in limited supply (and why eating that chocolate can make you a better investor)

The difference between a story based investor and a probability investor

Why he purchased Powerball tickets when he knows better

Three strong statistics that show why women are better investors
Listen to the Episode Below
Daniel's Money Story
Daniel grew up as the son of a financial adviser. Daniel says this is unique since he learned a lot about money and it was a topic regularly discussed in the open between the family. In his home, the word "debt" was considered a four-letter word — they didn't want to say that word in the house. Daniel grew up learning a lot about investing, compounded interests, taking risks and entrepreneurship. This thinking has profoundly influenced his behavior into his current role today.
Initially, Daniel started college majoring in business—but after a mission trip in southeast Asia, he decided he wanted to do more good for the world and help people. He went into psychology with an eye on being a therapist but the stress eventually got to him, and he found behavioral finance. Behavioral finance is a segment between psychology and investment — why people do the things they do with their money. It takes the sterile nuances of finance and meshes with human behavior and emotion.
The 10 Commandments for Building Wealth
You are in control—you control what matters most.

You can't do this alone—guidance is needed to point you on the right path.

Trouble is opportunity—willpower is not enough.

If you're excited about an investment, it's probably a bad idea—story-based investors versus probability investors.

You are not special.

Life is a benchmark—goals-based investing.

Forecasting is for weather people.

Excess is never permanent—if things have been good for a really long time, it might get bad.

Diversification means saying sorry.

Risk is not a squiggly line.
Research Showing How Women are Better Investors
Funds managed by women outperformed men by 4%

Women retail investors are better in a recession by 1.4% a year

Single women beat single men by 2.3% a year when it comes to investing
Her Money Matters because..
"Women are better investors than men."  
Links and Resources:
@danielcrosby on Twitter
The Laws of Wealth: Psychology and the Secret to Investing Success**
**Please note the link is an  affiliate link so I may receive a small commission if you purchase**
I want to hear from you!  What was your favorite takeaway from this episode? Please come on over to our community and share with us there.
You can join our community (and receive our weekly newsletters) by grabbing The Daily Dinero Ritual!
Abrazos + Much Love,
Jen
Today's episode of the podcast is brought to you by Bari Tessler Linden and The Art of Money.  The Art Of Money is open NOW for a limited time, you can get a taste of Bari's work in her free Money Mochas series over at BariTessler.com
P.S. THANK YOU for listening!
Enjoy The Show?
Be sure to never miss an episode:
Share with a friend by using the social media icons below.
Send us feedback via email to support@jenhemphill.com or click here to leave a voicemail.
**Please note I love to give shout-outs to my listeners, so if you'd rather me not mention your email message or play your voicemail on the show be sure to clearly state that, thank you!*