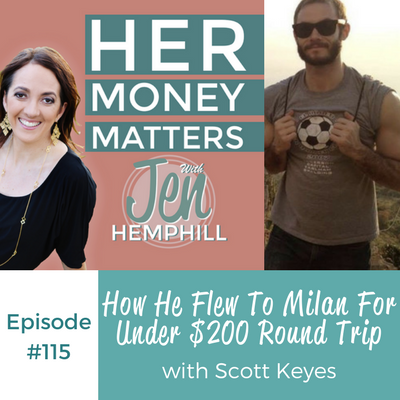 Travel is something that brings us joy, but too often, we seem to think we can't afford it. Fortunately for us, we have people in this world like Scott Keyes looking out for us.
He has made it his mission to help us finding us great deals on flights all over the world.
What you'll learn about in today's episode:
The story of why he is so passionate about finding great deals.

His ONE secret behind finding these great deals.

How this is a different option to the traditional travel hacking we hear a lot about.

The key areas to consider for to get cheaper flights.  

How he managed to fly to Milan for under $200 round trip.
Listen to the Episode Below
How Scott Grew Up Around Money
Growing up, Scott's household was a frugal one. He mentions that his family would buy all their food in bulk (at Sam's or Costco) and was taught to pinch pennies. This mentality has stayed with him to a certain extent—he tries to maintain that sensibility of traveling as frugally as possible—get the cheapest ticket possible. He jokingly admits he's slept in more airports than you would believe.
In college, Scott wanted to travel, but with a limited budget of 3-figures in his bank account, spending was tight, and that's where his idea for travel hacking was born. He wanted to make sure when he's traveling; he's not paying for more than he needs to. Now, he does this for a living.
Finding Great Travel Deals
To find these great deals, Scott tells me that he puts in an ungodly amount of time when searching for cheap flights. He mentions that he's not doing anything out of the ordinary to find cheap flights. The ONE key thing to finding cheap flights is to seek them out earlier and to get them before they're gone.
For his business, Scott has a free list and a paid list. He encourages everyone to sign up for the free list first so you can get a feel for how it works. As soon as Scott and his team find the perfect deal, he emails it to his list of links and additional information on how to book the actual fare. The premium list gives you access to all deals departing from specific airports.
Scott mentions the toughest time to find flights are mid-summer and the New Year holiday—those are considered the peak summer times. Families who like to travel should book their travels during the off-season and plan in advance. Keeping in mind Thanksgiving is the best time to travel with the family. Scott recalls the best deal he got was a trip from NYC to Milan for $130. Instead of booking a flight from DC, he booked a bus ride to NYC so that he could save money.
The key features to keep in mind when booking flights are:
Airport location

Time of year

Last-minute fares jump in price
Links and Resources:
**Please note the link is an  affiliate link so I may receive a small commission if you purchase**
I want to hear from you!  What was your favorite takeaway from this episode? Please come on over to our community and share with us there.
Abrazos + Much Love,
Jen
Today's episode of the podcast is brought to you by Bari Tessler Linden and The Art of Money.  Check out her free e-course: A Pocket Map for Your Money Road Trip by CLICKING HERE
P.S. THANK YOU for listening!
Enjoy The Show?
Be sure to never miss an episode:
Share with a friend by using the social media icons below.
Send us feedback via email to support@jenhemphill.com or click here to leave a voicemail.
**Please note I love to give shout outs to my listeners, so if you'd rather me not mention your email message or play your voicemail on the show be sure to clearly state that, thank you!*