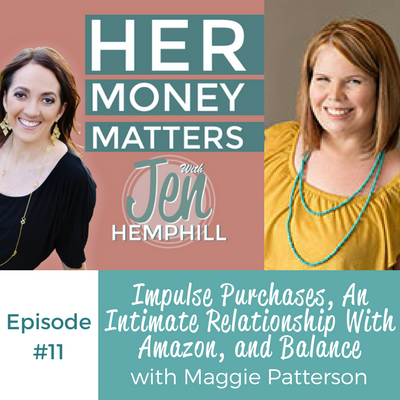 If you haven't had your cup of coffee yet and you are dragging your feet, this week's episode can be your shot of espresso. My latest guest Maggie Patterson brings lots of energy as shares her money story. Besides a successful entrepreneur, she's also a wife and mother which is the side I wanted to bring to the show–you'll have to let me know how we did!
**FYI, there is one slight curse word that I overlooked and didn't mention on the podcast, it's just one time–so if you have your little ones around just be please be aware of that.**
Listen to the Episode Below
What You'll Learn In Today's Episode:
A money lesson her mom taught her early on that included the Christmas wishlist
The best money advice she received from one of her former employers
A habit her and her husband formed early on that is going to help their son later in life
The type of impulse purchases she has made and what she has learned from it
The scoop on her intimate relationship with Amazon
What she has learned about balance, life and money and so much more
Resources From This Episode:
Where to learn more about Maggie and all the magic she creates: www.maggiepatterson.com
Her podcast: The Marketing Moxie Show
Some last thoughts from me–Maggie talks about having reached that balance of saving vs enjoying life. I want to challenge you to check in with yourself and look at where you are at with that.
Do you find yourself consistently saving and then going on a spending binge? Or maybe you are spending more than saving? What does your scenario look like? What can you do in your specific situation to reach that balance?
Finding that balance will help you live a happier more fulfilling life. Let us know your thoughts and reflections in the comments!
Abrazos (**hugs**),
Jen
P.S. THANK YOU for listening!
Enjoy The Show?
Be sure to never miss an episode:
Share with a friend by using the social media icons below.
Send us feedback via email to support@jenhemphill.com or click here to leave a voicemail.
**Please note I love to give shout outs to my listeners, so if you'd rather me not mention your email message or play your voicemail on the show be sure to clearly state that, thank you!**