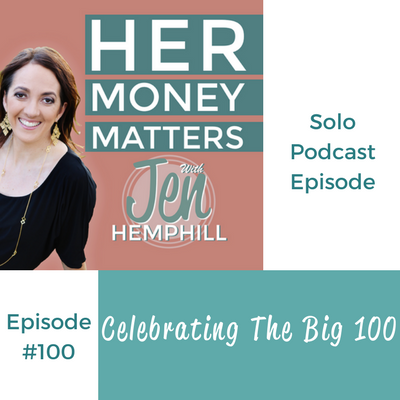 Today we are celebrating the big 100 of Her Money Matters Podcast!  We've come a long way as we cross over the triple digit numbers in podcast episodes.   It's been an amazing journey up to now and for that I THANK YOU and I thank you BIG TIME.
In this episode we are celebrating, and of course in a big way.  
Listen to the Episode Below
We are marking 5 ways to celebrate this huge milestone by:
#1:  Sharing some highlights some of your wins since we started this podcast
#2:  Sharing some highlights some of the evolvement in my journey
#3:  Fun stats about the podcast (because after all it is YOUR podcast)
#4:  Sharing with you a special announcement that you'll love as part of celebrating 100 episodes
#5:  One action you can take TODAY in this celebration (ahem, right after you listen)  
AUDIENCE WINS
Throughout the life of the podcast thus far, we have had many wins by our audience members – paying off debt, getting systems in place, being in control, empowerment around choices, getting the kick in the butt to move forward on things being procrastinated on, sharing their story on a podcast episode, to name a few.  
MY EVOLVEMENT SINCE EPISODE 001
Her Money Matters has come a long way since it first aired nearly 2 years ago.  You may not believe this, but I was so nervous during the recording of the very first episode of Her Money Matters, I re-recorded it well over 5 times!  That's about 20 minutes of talking, repeating it from the beginning, over and over….  Thankfully today, I am not re-recording full episodes like I used to.
One thing that came from the podcast that totally took me by surprise, was the book deal.  This came completely out of the blue, and was not even on my radar.  It was a great honor to be approached by a publisher and I am so grateful for the opportunity.  
My love of podcasting has gone deeper over the years, and I am also now contemplating a podcast in Spanish!  First things first though, let's get the book project done and out of the way!  
The podcast has also allowed me to connect with so many wonderful people to and being able to serve more of you outside of the podcast has been very gratifying.  I am so very grateful to all of you and thank you from the bottom of my heart!
FUN STATS about HER MONEY MATTERS PODCAST
Over 100k total downloads and growing

We have listeners in over 112 countries with the top 10 being the USA, Canada, Australia, the UK, China, Germany, Philippines, New Zealand, South Africa and Ireland, in descending order.  

Top 10 US States: CA, TX, NY, IL, FL, VA, WA, NC, NJ, PA
(Wondering here what happened with Colombia, not enough love from my birthplace y'all!)
Will you help me reach more and get it to 200k downloads before 2018?  I would love it if you would share your favorite episodes and together we will get there!
ANNOUNCEMENT/GIVEAWAY DETAILS
In honor of my 100th episode, I have a big announcement!  
Because we are celebrating 100 episodes along with May having so much to celebrate: it being my birthday month, Mother's Day, Military Spouse Appreciation day, and Memorial Day…I decided I wanted to give away 100 free 15 minute coaching calls.  
Yes – completely FREE!   
Why?  Well besides wanting to help you, I can celebrate by actually connecting with you in real life or rather in virtual life.  It also helps me to really stay in the loop as to what your challenges are and what you need.  
This is how it is going to work:
Answer a simple, short survey;

Click on the link (after the survey)  and you will get the coupon code to schedule the call.  

Select the time that works best for you;

We'll connect on phone or on Skype.

On the day of our call be ready to share the most pressing challenge you have with your money, or any question you have, and I'll help you with this!
That is it.  I'm not going to sell you anything after, I just want to know you better so I can tailor my business to your needs.    
I'm excited about this and hope you take advantage of this opportunity.  Appointments can be booked starting now, but they have to be booked no later than Friday, June 23rd, 2017.  
ONE ACTION YOU CAN TAKE TODAY TO HELP IN THE CELEBRATION
In honor of this 100th episode, I would love it if you would share your favorite episode with 3 people today.   If it is hard to choose just pick one or you can share this one.  I hope you will accept this challenge!  And I thank you in advance!
NEXT WEEK ON HMM:  I will introduce to you Sara Li-Cain, who grew up in a family of accountants, and we will learn how that influenced her personal finance education.
I want to hear from you!  What was your favorite takeaway from this episode?  Please share in the comments below or come on over to our community and share with us there.
You can join our community (and receive our weekly newsletters) by grabbing The Daily Dinero Ritual!
Abrazos + Much Love,
Jen
P.S. THANK YOU for listening!
Enjoy The Show?
Be sure to never miss an episode:
Share with a friend by using the social media icons below.
Send us feedback via email to support@jenhemphill.com or click here to leave a voicemail.
**Please note I love to give shout outs to my listeners, so if you'd rather me not mention your email message or play your voicemail on the show be sure to clearly state that, thank you!**