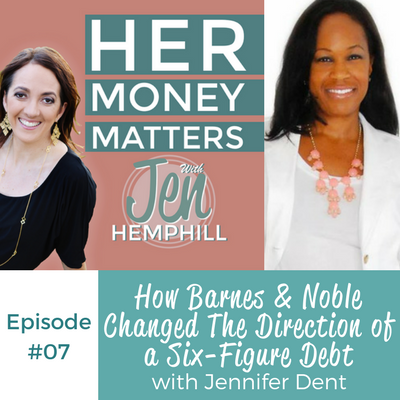 Debt can be stressful for anyone, it doesn't matter who nor how much the debt is. Debt is debt that is all there is to it.
Some people let debt run their lives. Others get control of it and do all it takes to make it disappear. My latest guest is a true inspiration (and it's not because we share the same first name **wink, wink**).
Jennifer Dent is a Integrative Nutrition Health Coach who not too long ago was in a dark place where she wasn't able to make her minimum payments on her credit cards nor pay her rent. She also was in a significant amount of debt….6 figures worth! In this latest episode she will share with you how five years ago Barnes & Noble changed not only the direction of her debt but her life and so much more.
Listen to the Episode Below
What You'll Learn In Today's Episode:
What exactly happened in Barnes & Noble that changed the direction of Jennifer's six-figure debt
Her proudest money moment (for which the bank should have included a banner, balloons, and music playing but didn't)
She shares her favorite money app, simple, not so robust, but it does the job and works well for her (and it's free)
The opportunities that opened when she took some tough action with her finances (these doors that opened tripled her income)
Resources From This Episode:
Learn more about Jennifer Dent HERE
Total Money Makeover book by Dave Ramsey
Every Dollar Budget App by Dave Ramsey
I'd love to hear from you, what is a personal finance book that you have read and loved?
Abrazos (**hugs**),
Jen
P.S. THANK YOU for listening!
Enjoy The Show?
Be sure to never miss an episode:
Share with a friend by using the social media icons below.
Send us feedback via email to support@jenhemphill.com or click here to leave a voicemail.
**Please note I love to give shout outs to my listeners, so if you'd rather me not mention your email message or play your voicemail on the show be sure to clearly state that, thank you!**