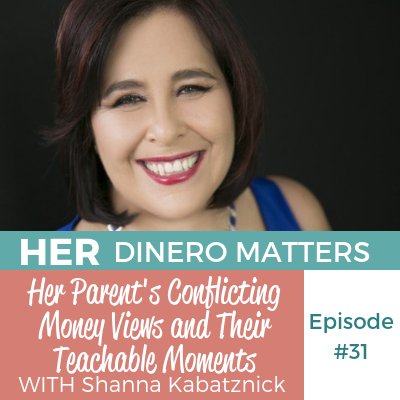 Do your parents or the people who raise you have conflicting money views? Maybe you have never reflected on that and if you haven't, you definitely should.
Understanding these money views will give you better insight into your views on money.
In this week's episode, Shanna Kabatznick shares her experience with this and so much more…
Listen to the Episode Below
What you'll learn about in today's episode:
The conflicting views her parents had about money and what she took away from it

The details behind the time in her life where she used shopping to feel better

How she used F.A.B. (Financial Active Blueprint) to help her clients not fear the budget
Resources From This Episode:
Shanna's website: FabWomen
Provide your feedback on the changes in the podcast! Start here.
I want to hear from you!  What was your favorite takeaway from this episode? Please come on over to our community and share with us there.
You can join our community (and receive our weekly newsletters) by grabbing The Daily Dinero Ritual!
Abrazos + Much Love,
Jen
P.S. ¡GRACIAS por escuchar! THANKS for listening!
The post, Her Parent's Conflicting Money Views and Their Teachable Moments with Shanna Kabatznick | HDM 31 appeared first on the Her Dinero Matters Podcast