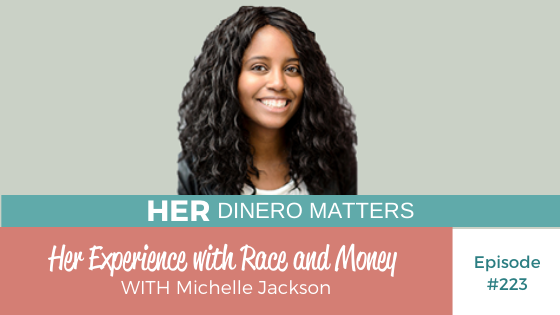 In this episode, I spoke with the wonderful Michelle Jackson about her experience with race and money. The purpose of this episode is to explore the intersectionality of race in our money stories. The better understanding we have, the better allies we become, and I think we can become more effective in moving the needle towards equity and inclusion.
Since March of this year so much has happened: COVID-19, a downturn in the economy, and another heinous burst of racial injustice. On social media many have joked about wanting a redo of 2020.
In June of 2020 I did a special episode addressing the difficult conversation of racial injustice, and as a part of my commitment to keep the conversation going, I have invited the fabulous Michelle Jackson to talk with me about her experience with race and money.
Michelle Jackson is a force to be reckoned with. She has a powerful and insightful perspective which comes from her own personal experience.
Michelle is passionate about helping her readers and listeners empower themselves financially. Whether it is by improving their personal finances or learning how to sell what they already know, she loves having those conversations.
Michelle runs the website and podcast "Michelle is Money Hungry," and she is the founder of the Money on the Mountain retreat focused on empowering financially single women one conversation at a time. When she's not geeking out about personal finance, she loves hiking in the mountains of Colorado.
Listen to the Episode Below
What you'll learn about in today's episode:
Michelle Jackson's financial experience as a POC living in a predominantly white and affluent area in Colorado

The lessons learned from living in a studio during a financially difficult time for her and her mother

A few tips to consider in our journey to become strong allies for the Black community
Resources From This Episode:
Follow Michelle Jackson and her podcast, "Michelle is Money Hungry," on Instagram:
https://www.instagram.com/michelleismoneyhungry/
Get your free copy of The Daily Dinero Ritual here:
If you already have the Daily Money Ritual, it's been redone and made even better, and it's now called the Daily Dinero Ritual! Log in to your account in the Her Dinero Matters Lounge to view the new and improved tool.
http://jenhemphill.com/THELOUNGE
Nominate a mujer (woman) for Reina of the Week here: www.jenhemphill.com/reinaoftheweek
☕️☕️☕️☕️☕️☕️☕️☕️☕️☕️☕️☕️☕️☕️☕️☕️☕️☕️☕️☕️☕️
I want to hear from you!  What was your favorite takeaway from this episode? Come on over to @HerDineroMatters on Instagram and share it with us there.
Abrazos + Much Love,
Jen
P.S. ¡GRACIAS por escuchar! THANKS for listening!
Enjoy the Show?
Be sure to never miss an episode by hitting the subscribe or follow button on your favorite podcast app! Get instant notifications of the latest episodes now!
Be sure to share with a friend (or two), you never know what someone is going through in their financial life. Here is a tweet you can share now:
Have Feedback?
Send us feedback via email to support@jenhemphill.com or click here to leave a voicemail.
The post, Her Experience with Race and Money – Michelle Jackson | HDM 223, appeared first on the Her Dinero Matters Podcast.