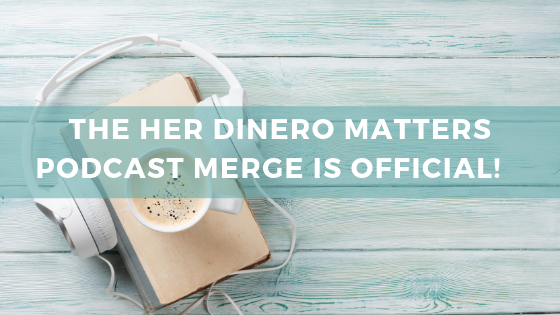 Doing a podcast has been a big part of my life, in fact in a few week's it will be 4 years since I started podcasting.

To say I'm grateful for podcasting is an understatement. I have grown as a person, met so many phenomenal people, not to mention it has connected me to new clients and customers AND opened up opportunities I would not have imagined.

In case you have missed the news I have made the decision of merging the Her Dinero Matters and Her Money Matters podcasts.
If you want to get the scoop as to why I made this decision you can listen to Episode 172.
Below are all the changes that are coming with this podcast merge.
🎙🎙🎙🎙🎙🎙🎙🎙🎙🎙🎙🎙🎙🎙🎙🎙🎙🎙
Change #1:
(Really THE major change)
The Her Money Matters podcast will be renamed to Her Dinero Matters. It will be more Latina-centric, but anyone is welcome to listen. It will be mainly in English with more Latino flair then you are used to.
Change #2:
We are going back to weekly episodes released each Thursday, yay!!
Change #3:
I've been wanting to come up with ONE name my community (yes that's you) for years and finally, I have got it! (Yes I have moved at a turtle pace with this 🐢)
🥁Drum roll please for the name reveal 🥁 …
Reina (queen).
Why because my mission is to help you become the Reina of Your Dinero (Queen of Your Money). Fitting, right?
I hope you love it as much as I do as you will see me calling you this in emails, ahem the podcast, etc.
Change #4:
We are taking the La Mención Semanal (Weekly Shout Out) in the show and UPGRADING it to the Reina of the Week where YOU (yes you!) get to nominate a mujer (woman) who you have seen making changes in her financial life which has inspired you.
She can be a part of our community but doesn't have to be a current listener of the podcast. Think about a family member, friend, co-worker, someone you just met…
You can nominate for Reina of the Week here: jenhemphill.com/reinaoftheweek
Change #5:
<<Enter monthly themes>>
Each month will have a new theme through which the conversations on the podcast, emails and social media will be focused on.
June's monthly theme is Love and Money (since June is a big month for weddings).
Change #6:
NEW SHOW SEGMENT: Pregunta of the Week (Question of the Week)
I really hope you to take advantage of this awesome opportunity. It is designed to help you keep your financial life in check and give you a chance to score some awesome freebies (every month!)
Here is how it is going to work:
✔️ Every week a new question will be announced that goes along with the monthly theme
✔️ You will log into your free account in the Her Dinero Matters Hub and look for Pregunta of the Week
If you don't have your free account you can create yours here: herdineromattershub.com
✔️ Answer the question (don't worry the questions won't be hard to answer) and your answer will be recorded
✔️ Answer the 4 Preguntas of the Week for the month's theme and you will unlock a freebie that will be found within your free account. We'll take care of you and the details will be emailed to you!
Change #7:
NEW SHOW SEGMENT: Chisme Express
This part will be done on our interview episodes. Chisme means gossip, but this is done in a positive, fun and lighthearted way. (I think by now you know I am not about that drama!)
Here I will ask them 5 random fun questions which they won't know ahead of time so they'll have to think quick on their feet!
Change #8:
NEW SHOW ADDITION: The Reina Crew
I have to say I am sooo excited about this!!!
Once a month I'm gathering some ladies for a panel discussion on the month's theme. It will be fun and lighthearted and the panel of ladies will vary from month to month.
🎙🎙🎙🎙🎙🎙🎙🎙🎙🎙🎙🎙🎙🎙🎙🎙🎙🎙
Phew, that was a lot. I'd love to hear from you and learn what you are looking forward to most with these changes!
Ahh, I almost forgot to share the new episode kicking off these changes: 8 Conversations No Couple Should Ignore.
Can't wait to hear your thoughts!
Abrazos + Much Love,
Jen