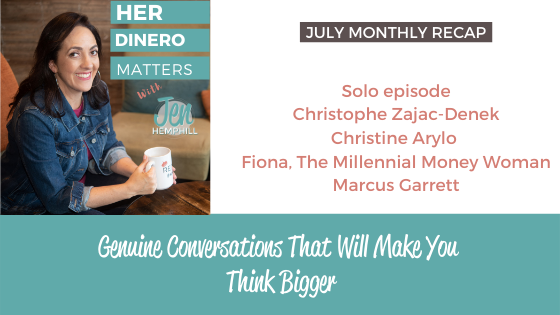 This month on the Her Dinero Matters Podcast we focus on "Thinking Bigger". It is time to broaden the horizon of your life and bring greater opportunities, don't you think? Break the limits that you are imposing on yourself and leave behind the fears in your head that prevent you from doing the things you dream and love. We have 5 episodes that will help you think bigger by playing big with your money, overcoming challenges, handling overwhelming situations, getting out of debt and thinking ahead.
Quick Recap
Here is what we covered this month on Her Dinero Matters Podcast:
In episode 268:
"How to Play Bigger With Your Money" – Solo episode
Are you aligning your actions with the goals that you really want or the goals that you think you should want? In this episode I share with you why you may be focusing on the wrong types of goals. I also share two critical steps to make your vision a reality and 7 ways to start living it right now.
To listen to this episode click here. 
In episode 269:
"The Truth About the Financial Challenges Little People Face" – Christophe Zajac-Denek
In this episode, the amazing Christophe shares several of his experiences/lessons in life around money and how his mother leads him to try new things. Also, he shares with us some of the financial challenges little people face.
To listen to this episode click here. 
In episode 270:
"The Most Useful Ways of Managing Overwhelm",- Christine Arylo
Do you feel that the task and pressures never end with work, social obligations or life in general? In this episode, Christine shares the importance of overwhelm and why it matters. She also shares with us her best tips on managing overwhelm and a piece of advice for women currently feeling it.
To listen to this episode click here. 
In episode 271:
"Helpful Ways to Save Money for Long-Term Care",- Fiona, The Millennial Money Woman
How do you feel about long-term care? Have you thought about this or does just the thought of thinking about it overwhelm you?  In this episode, The Millennial Money Woman shares the importance of planning for long-term care and thinking about it now. She also shares some strategies that will help provide some peace of mind as it relates to overcoming long-term care costs.
To listen to this episode click here. 
In episode 272:
"
The Unexpected and Valuable Lessons From Getting Out of Debt"
,- Marcus Garrett
Getting out of debt isn't easy for anyone, because you can't get out of debt without making some financial changes first. In this episode, Marcus shares with us the hard lessons he learned as a young adult and the importance of managing your money. He also shares some tips that have helped him and his girlfriend though their financial journey.
To listen to this episode click here. 
Abrazos + Much Love,
Jen
P.S. Also, you don't want to miss Financially Strong Latina – La Membresía. For all of those financially strong women who want to keep learning and taking control of their finances here is what you were asking for: JOIN HERE!
P.S.S. Follow us on your favorite podcast player and review! If you listen on Apple Podcast you can review there. If not you can go HERE to review on Podchaser! THANK YOU! 😉
You can join our community (and receive our weekly newsletters) by grabbing The Daily Dinero Ritual!
Have Feedback?
Send us feedback via email to support@jenhemphill.com or click here to leave a voicemail.