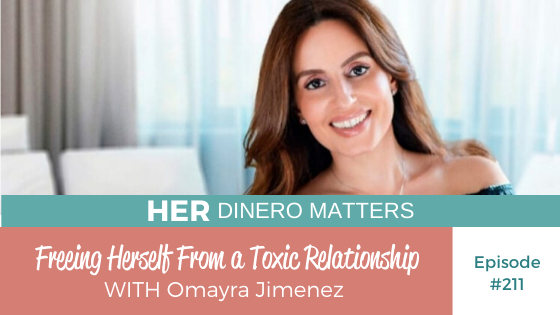 Relationships can stall or propel your financial life which makes it important to be in a fruitful relationship.
In this episode, we talk to Omayra Jimenez who freed herself from a toxic relationship that transformed her life (and her finances as well).
Listen to the Episode Below
What you'll learn about in today's episode:
The trouble she found herself in as a result of giving money to those in need

The exact factor which led to having 35 credit cards

How she shifted from a toxic relationship and changed her life

The biggest money lessons she learned and why she wants to pass them on
Resources From This Episode:
Check out the Her Dinero Matters LOUNGE here
Nominate a mujer (woman) for Reina of the Week here: www.jenhemphill.com/reinaoftheweek
☕️☕️☕️☕️☕️☕️☕️☕️☕️☕️☕️☕️☕️☕️☕️☕️☕️☕️☕️☕️☕️
I want to hear from you!  What was your favorite takeaway from this episode? Come on over to @HerDineroMatters on Instagram and share it with us there.
Abrazos + Much Love,
Jen
P.S. ¡GRACIAS por escuchar! THANKS for listening!
Enjoy the Show?
Be sure to never miss an episode by hitting the subscribe or follow button on your favorite podcast app! Get instant notifications of the latest episodes now!
Be sure to share with a friend (or two), you never know what someone is going through in their financial life. Here is a tweet you can share now:
Have Feedback?
Send us feedback via email to support@jenhemphill.com or click here to leave a voicemail.
The post, Freeing Herself From a Toxic Relationship with Omayra Jimemez | HDM 211 appeared first on the Her Dinero Matters Podcast