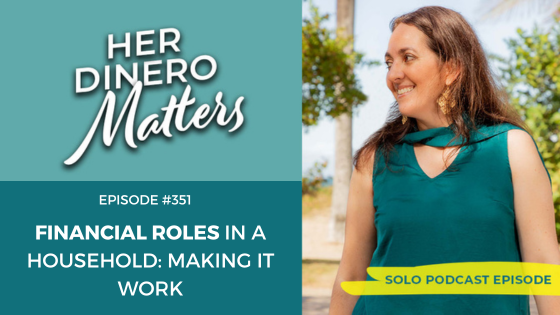 Are you feeling overwhelmed with all the financial responsibilities in your household? Wouldn't it be nice if our partner or a family member takes on some of these financial roles? Grab your favorite beverage and dive into how to set up these financial roles and how to make it all work.
Financial roles play a crucial role in a household. It can involve from managing and allocating funds for various expenses, including bills, groceries, savings, and investments. Whether you live alone, with a partner, or have a family, setting up clear financial roles can make managing your finances easier and more efficient.
Ideally, each family member can take on a financial role or two in the household finances, including the little ones. To help make this easier it is essential to understand their importance, how to define the roles in your household as well as how to designate who takes on what role. All of this is discussed in depth in this episode.
What you'll learn about in today's episode:
The things you should consider when designating the different financial roles.
How to create a financial calendar that details the various tasks for each family member.
The key question that will help you explain and assign financial roles to your children.
You can also watch or listen on YouTube!
Resources from this episode:
Do you have questions about Financial Roles? Next week I'm going to do a live session on our Facebook community where I'll share with you how to introduce Financial Roles to your family in a simple way and answer your questions. Will you join us? Join our FREE COMMUNITY on Facebook here!
Related Her Dinero Matters episodes you may enjoy:
#52 – 4 Key Conversations When Mixing Love and Money
#117 – Managing Money In A Dual Entrepreneur Household With Autumn Witt Boyd
#18 – What To Do When Your Spouse Isn't On Same Page As You With The Money
---
¿Te sientes abrumada con todas las responsabilidades financieras de tu hogar? ¿No sería agradable que nuestra pareja o algún familiar asumiera alguno de estos roles? Es momento de relajarte unos minutos e investiguemos estos roles financieros en el hogar y cómo hacer que todo funcione.
Los roles financieros juegan un papel importante en el hogar. Puede implicar administrar y asignar fondos para varios gastos, incluidas facturas, comestibles, ahorros e inversiones. Ya sea que vivas sola, en pareja o tengas una familia, establecer roles financieros de manera clara puede hacer que administrar tus finanzas sea más fácil y eficiente.
Idealmente, cada miembro de la familia puede asumir uno o dos roles financieros en el hogar, incluidos los más pequeños. Para ayudar a que esto sea más fácil, es esencial comprender su importancia, cómo definir estos roles y cómo designar quién asume cada uno. Todo esto lo discutiremos en profundidad en este episodio.
Lo que aprenderás en este episodio:
Las cosas que debes considerar al designar los diferentes roles financieros.
Cómo crear un calendario financiero que detalle las diversas tareas de cada miembro de la familia.
La pregunta clave que te ayudará a explicar y asignar roles financieros a tus hijos.
¡También puedes verlo o escucharlo en YouTube!
Recursos de este episodio:
¿Tienes preguntas sobre este tema de los Roles Financieros? ¡Buenas noticias! La próxima semana hare un en vivo en nuestra comunidad en Facebook, donde te compartiré cómo introducir este tema de una manera simple a tu familia y también para responder tus preguntas. ¡Únete a nuestra COMUNIDAD GRATIS en Facebook aquí!
Episodios de Her Dinero Matters relacionados que puedes disfrutar:
#52 – 4 Key Conversations When Mixing Love and Money
#117 – Managing Money In A Dual Entrepreneur Household With Autumn Witt Boyd
#18 – What To Do When Your Spouse Isn't On Same Page As You With The Money
☕️☕️☕️☕️☕️☕️☕️☕️☕️☕️☕️☕️☕️☕️☕️☕️☕️☕️☕️☕️☕️
Get involved in our community:
Join the conversation in our community on Facebook: jenhemphill.com/community


Want to get social? Let's connect more on Instagram @jenhemphill
Enjoy the Show?
Be sure to never miss an episode by hitting the subscribe or follow button on your favorite podcast app! Get instant notifications of the latest episodes now!
Be sure to share with a friend (or two)! You never know what someone is going through in their financial life. Here is a tweet you can share now:
If you listen on Apple Podcasts you can review THERE. If not you can go HERE to review on Podchaser! THANK YOU!
Have Feedback?
Send us feedback via email to support@jenhemphill.com or click here to leave a voicemail.
The post, Financial Roles in a Household: Making it Work | HDM 351 appeared first on the Her Dinero Matters Podcast.