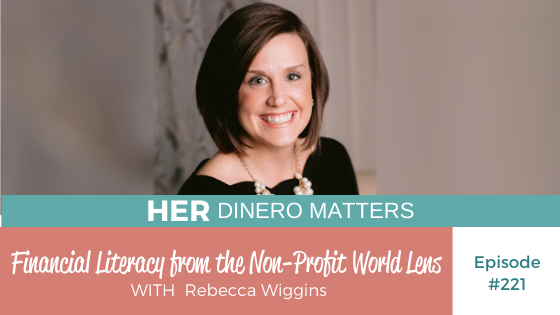 The Association for Financial Counseling & Planning Education, AFCPE, is a non-profit organization focused on financial literacy. As a national association for financial counselors, coaches, and educators, this organization sets the highest standards of professionalism for the field.
Executive Director Rebecca Wiggins joins us in this episode to discuss financial literacy as it relates to the Latinx community. Rebecca is also the co-host of the Real Money, Real Experts podcast.
Listen to the Episode Below
What you'll learn about in today's episode:
How she became interested in the non-profit sector

Some changes that have been happening with regard to diversity and inclusion in the financial literacy world

The recurring themes appearing to those serving the Latinx community

Latinx friendly resources she recommends
Resources From This Episode:
Link to the AFCPE: https://www.afcpe.org/
Free financial counseling: https://www.yellowribbonnetwork.org/afcpecovid19
Need personalized help with your finances? Apply for coaching here:
jenhemphill.com/apply
Nominate a mujer (woman) for Reina of the Week here: www.jenhemphill.com/reinaoftheweek
☕️☕️☕️☕️☕️☕️☕️☕️☕️☕️☕️☕️☕️☕️☕️☕️☕️☕️☕️☕️☕️
I want to hear from you!  What was your favorite takeaway from this episode? Come on over to @HerDineroMatters on Instagram and share it with us there.
Abrazos + Much Love,
Jen
P.S. ¡GRACIAS por escuchar! THANKS for listening!
Enjoy the Show?
Be sure to never miss an episode by hitting the subscribe or follow button on your favorite podcast app! Get instant notifications of the latest episodes now!
Be sure to share with a friend (or two), you never know what someone is going through in their financial life. Here is a tweet you can share now:
Have Feedback?
Send us feedback via email to support@jenhemphill.com or click here to leave a voicemail.
The post, Financial Literacy from the Non-Profit World Lens with Rebecca Wiggins | HDM 221, appeared first on the Her Dinero Matters Podcast.