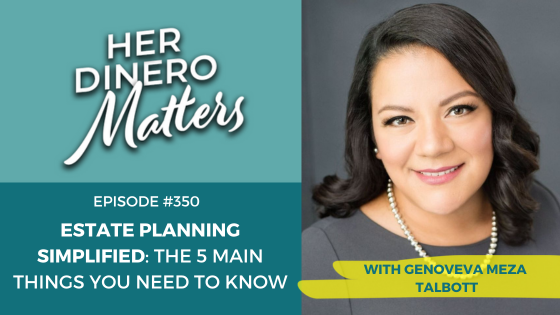 Does the thought of estate planning make your head spin? Maybe you have been putting off creating your will. Although it may seem complex, with the right guidance, it can be quite simple. After listening to today's episode, you'll gain a better understanding of estate planning and be inspired to begin your own. Don't miss it!
Planning for the future is important, especially when it comes to your estate. With the help of estate planning, you can ensure that your assets are taken care of and your loved ones are provided for even after you're gone.
In today's episode our guest Genoveva will offer clear and concise explanations of various estate planning topics, providing simple examples to help you better understand each area and gain greater clarity.
Genoveva Meza Talbott is an immigrant from Mexico, and she is a dedicated wife, mother, and lawyer in Southern California. Her practice focuses on assisting Latinas and their families in securing their legacy and protecting themselves and their loved ones.
What you'll learn about in today's episode:
At what age you already possess an estate unbeknownst to most people.
The two essential documents to consider when planning your estate in the case of a disability.
What differentiates a will vs a living trust (and why you can't ignore this detail).
The ideal time for a couple to arrange their prenuptial agreement.
Listen to the Episode Below
You can also watch or listen on YouTube!
Resources from this episode:
Connect with Genoveva: @attorney_meza_talbott
Related Her Dinero Matters episodes you may enjoy:
#329 – Making the Family Financial Planning Conversation Easier
#173 – The 8 Money Conversations No Couple Should Ignore
#52 – 4 Key Conversations When Mixing Love and Money
☕️☕️☕️☕️☕️☕️☕️☕️☕️☕️☕️☕️☕️☕️☕️☕️☕️☕️☕️☕️☕️
Get involved in our community:
Join the conversation in our community on Facebook: jenhemphill.com/community


Want to get social? Let's connect more on Instagram @jenhemphill
Enjoy the Show?
Be sure to never miss an episode by hitting the subscribe or follow button on your favorite podcast app! Get instant notifications of the latest episodes now!
Be sure to share with a friend (or two)! You never know what someone is going through in their financial life. Here is a tweet you can share now:
If you listen on Apple Podcasts you can review THERE. If not you can go HERE to review on Podchaser! THANK YOU!
Have Feedback?
Send us feedback via email to support@jenhemphill.com or click here to leave a voicemail.
The post, Estate Planning Simplified: The 5 Main Things You Need to Know | HDM 350 appeared first on the Her Dinero Matters Podcast.