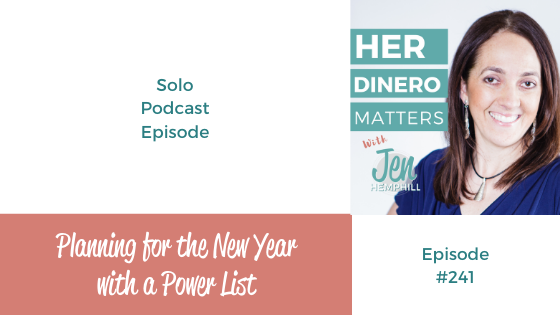 In order to move forward intentionally, we need to know where we have been to really define where we want to go. The time has come to reflect on what has happened throughout this year and how to plan for the upcoming year. Let's be honest, this 2020 has been such a crazy year for all of us, but we can embrace all of the growth and changes lived through and prepare for a fantastic 2021!
In this episode, I want to invite you to also reflect on your own 2020 so you can start 2021 full speed ahead! Learn about the 4-part Power List that I am using to analyze this year and plan for 2021 and how you can make use of it too.
Listen to the Episode Below
What you'll learn about in today's episode:
My own reflections of 2020

How to create your own 4-part "This was 2020 for ME" Power List

My plans for 2021
Starting the 4-Part "This was 2020 for Me" Power List
Thanksgiving for me is usually a relaxing time with family, where I binge watch Netflix and movies and where I reflect on the year lived and start planning for the next year. This year I am using a power list to help me get through this and I want to share with you how you can use it for yourself as well! Make sure to enjoy this process and be cognizant that it is a work in progress since there are still some weeks left in the year and you might not get through all of it during the holiday or a weekend.
This Power List consists of four parts:
Financial Lessons and Reflections

Life Lessons and Reflections

Successes

How You Will Play Bigger
Let's get started!
Financial Lessons and Reflections of 2020
One of the lessons I have learned deals with having a financial plan B, and I spoke about this on Episode 208 of the podcast earlier this year, but the main lesson for me was actually communicating that plan B with my family. In full transparency here, even though I devised that plan B, it is almost the end of the year and I haven't shared that plan with the rest of the family, which is not beneficial for any of us, if they don't know about it, how will we be able to work together on the same plan? Definitely a lesson learned!
Another great lesson learned has been to continue to focus on adding more money to our emergency fund, granted it is healthy right now, but throughout this year I have realized that three to six months of living expenses is not enough. We need to increase that amount available in our emergency funds. We really need to figure out how to make this happen, and it will be different for everyone, but just come up with a plan to grow that emergency fund.
I have also realized that my self-care needs to be amped up because I know the consequences of not taking care of ourselves and how this affects our financial life. When our brains are overloaded with information, there is a lot of fog and we can't think clearly so it leads to feeling in a funk, depression, or anxiety. It is so important to really take care of yourself, so you can clear your mind and think clearly, and make the appropriate decisions. Getting out of that funk is often difficult but just make the effort to define what self-care means for you and make sure to take the time to take care of yourself!
What are those financial lessons for you?
Perhaps you have realized you want to add more money into your emergency funds or want to start saving more money even if it a little. You might want to start a Plan B for your finances, I have a whole episode on that topic, Episode 208, in case you missed it and you can also download the FREE worksheet I prepared to go along with that episode, jenhemphill.com/planb.
Are you protecting your money with a will, life insurance, and making sure all of those documents are kept up to date with the appropriate beneficiary designations? This is very important information to keep updated regarding your finances. Our priorities also change from time to time, especially when facing all the craziness that has happened in 2020, so those priorities might shift, and paying off that deft that was your focus might have to be delayed and that is completely okay!
"Your money story and your money journey is yours and yours alone!" – Jen Hemphill
Life Lessons and Reflections of 2020
My view on gratitude has shifted, I have realized that sometimes I have not been intentional when practicing gratitude and some of my gratitude has been superficial so now I am really taking the time to really feel what I am grateful for. Especially during this time, during this pandemic, so many people have been affected by COVID, I am so grateful for my health and for being so lucky to live here in the United States even with all of the issues going on, but when compared to other countries we have been fortunate to live here.
I also have realized that I need to slow down and that life is so precious. I am prioritizing the now with my family and making sure my boys are also taking care of themselves, taking their vitamins, and getting some sun. Journaling has helped me so much, getting some sun and disconnecting from social media has also helped me with my mental health. I have been reminded to be kind, we don't know what others are going through, and above all, I have been reminded that we are resilient, we will get through this!
What are those life lessons for you? Go ahead and write it down, let it flow!
Successes and Money Wins
If you have been keeping track of your money wins then this is a really easy part of this list. As you know I am a big proponent of taking note of your wins and successes so I log all of mine throughout the year in my planner. For me this year, some of those wins have been mainly the connections that I have been able to make with brands and companies such as We All Grow and AARP. Another great win has been, this podcast winning an award from the Latin Podcast Academy!
As a mom, my successes include seeing my boys becoming the kind, loving, and strong human beings that they are, it really helps me to know my husband and I have done a good job of raising them well!
Now, what about you? Make sure to write down your successes and wins from this year!
Playing Bigger
I am remaining open to possibly a second business or project that I have had on my mind and would like to pursue. I am usually the type of person that thinks I need to just focus on one project at a time, but I have realized it doesn't have to be like that, so I am keeping an open mind about this. I also want to start helping my boys start building their wealth and helping them invest.
Another big thing for me is saying no to things that aren't aligned with my focus and making time for the projects that I have left behind, that are important but I just haven't finished. For example, my youngest son is almost 14 and he doesn't have a baby album because it has been on my list but I haven't finished it.
How will you play bigger in the coming year?
Completing this Power List will help you get ready for 2021 and really have a solid foundation of your lessons learned as well as what you want to accomplish in the new year, which in turn will help you create your goals for 2021 more intentionally!
Resources From This Episode:
Enrollment is now open for the Her Dinero Power Circle. Get a special discount for a limited time using the code FANSONLY. Get all the details here: jenhemphill.com/powercircle
Want to get social? Let's connect more on Instagram @herdineromatters
You can join our community (and receive our weekly newsletters) by grabbing The Daily Dinero Ritual!
☕️☕️☕️☕️☕️☕️☕️☕️☕️☕️☕️☕️☕️☕️☕️☕️☕️☕️☕️☕️☕️
I want to hear from you!  What was your favorite takeaway from this episode? Come on over to @HerDineroMatters on Instagram and share it with us there.
Abrazos + Much Love,
Jen
P.S. ¡GRACIAS por escuchar! THANKS for listening!
Enjoy the Show?
Be sure to never miss an episode by hitting the subscribe or follow button on your favorite podcast app! Get instant notifications of the latest episodes now!
Be sure to share with a friend (or two)! You never know what someone is going through in their financial life. Here is a tweet you can share now:
Have Feedback?
Send us feedback via email to support@jenhemphill.com or click here to leave a voicemail.
The post, Planning for the New Year with a Power List | HDM 241 appeared first on the Her Dinero Matters Podcast.