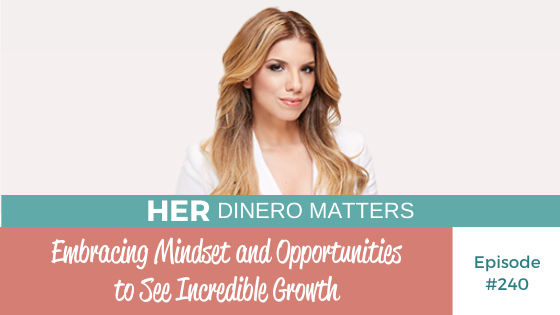 Have you been waiting for the perfect opportunity to start a business or make a life-changing decision? Most of the time, we don't see what is right in front of us and we wait a long time only to realize that opportunities most often appear when we least expect it. Our mindset is usually what holds us back or propels us forward into action!
In this episode, Gaby Natale, triple daytime Emmy®-Award Winner, media personality, entrepreneur, and influencer, shares with us how to transform our mindset and perspective and embrace any opportunities that arise in order to see incredible growth. She reminds us that "You never know when opportunity will knock on your door"!
Listen to the Episode Below
What you'll learn about in today's episode:
How opportunities show up when you least expect it

#1 Mistake people make when unemployed or starting something new

How to not suffocate your business

Personal Finance Lessons
Gaby's Money Story
Gaby grew up with certain privileges such as vacationing in Disney World, attending private schools, and even taking English classes, which at the time was a privilege for any kid in Argentina. A downturn in the economy in Argentina caused her to experience more challenging times where her parents had to work very hard to give her the opportunities she had later in life. She grew up learning to appreciate these sacrifices her parents had to make and also learned that things don't come easy, "money doesn't grow on trees", and you have to work hard. These experiences led Gaby to be very financially risk-averse still to this day, she prefers slow and steady growth, as that is what has worked for her.
Another great lesson from her parents was that she grew up observing her parents being equal partners in their business. She saw how a woman's voice was heard and valued and this really impacted her in a big way. She has followed in that example and is an equal partner with her husband as well. Gaby also witnessed the friction her parents underwent from working together and the toll it took on their marriage, so she works hard to learn from what she saw and liked and avoid what she saw caused friction.
When Opportunity Knocks on Your Door
After graduating in 2001 in Argentina with a Master's Degree in Journalism, Gaby felt she could take over the world, but instead was faced with an unemployment level of 20 percent and more. Her willingness to conquer the world met with the reality of no employment opportunities available and she spent about two years trying to find a job and in turn received rejection after rejection.
She went through the different stages of unemployment, as she calls them:
Optimistic Phase – when you think that now you can spend all the time with your family and take that course you've been meaning to take.
Hyper-productive Phase – where you send resumes day and night and seem so productive but don't really see the results.
Pajama Queen Phase – where you stay in your pajamas all day feeling depressed and making the mistake of feeling like the lack of response from the world was a reflection of who she was as a professional and as a person.
It was at this time that Gaby was offered an opportunity to do an unpaid task that she thought at the time was too simple for the education she had obtained, and she felt like a total failure, but she decided to still complete the task of passing out flyers. This is when everything changed, and opportunity knocked on her door. This simple task led to a new job for Gaby as a Public Relations Executive in Washington, D.C. and her life changed completely!
Earning the Privilege to Become an Entrepreneur
The road to entrepreneurship was not a quick one for Gaby, due to the type of Visa that she had when arriving in the United States. She had an H1B visa for professionals which meant that she could only work for someone else and it was not legal for her to own a business. Gaby continued to work in her journalism career and was able to cover stories about immigration and the situation of the border between Mexico and Arizona, she also worked for Univision as a news anchor.
Four years later, when her green card was approved, Gaby felt she had earned the right to finally be an entrepreneur. Gaby shares that many people say being an entrepreneur is a risk, but for her, it was a privilege! Gaby and her husband looked at the opportunities that were now opening for them and decided what they wanted to pursue.
At the beginning of her business, Gaby continued to work as a university professor in different colleges to have a steady paycheck for about a year and a half. She did not force her business to pay her bills from day one, and this is the advice Gaby gives to entrepreneurs, "Don't suffocate your business"! Gaby compares a new business to a plant, and how both need time to grow.
Financial Lessons
Throughout her journey, Gaby has learned some practical lessons when it comes to finances, especially the difference between finances in the U.S. and Latin America. She shares how in Argentina, as well as most of Latin America, access to credit is not as attainable as here in the U.S. and that leads people to save for big purchases instead of putting them on credit. This different mentality led Gaby to save all the money she needed for her first car when she arrived in the U.S. but it also hindered the opportunity to secure a $20,000 loan when starting her business, since she didn't have any credit history.
All of this led Gaby to understand that the U.S. system rewards you for paying off your debts and the importance of having a credit history. She also acknowledges the benefit of having the right information and resources to help you in your journey as an entrepreneur.
Passion Project
In today's changing situation, Gaby reminds us that you never know when a passion project can become center stage. She states that life is always circular, to be flexible and think outside the box. If you have income now and health, think about the fact that this time will not come back, so make the most out of this time.
"Be a great negotiator and always ask for a discount!" – Gaby Natale
Resources From This Episode:
If you want to connect with Gaby, visit www.WelcomeAllBeauty.com and www.GabyNatale.com
Enrollment is now open for the Her Dinero Power Circle. Get a special discount for a limited time using the code FANSONLY. Get all the details here: jenhemphill.com/powercircle
Want to get social? Let's connect more on Instagram @herdineromatters
You can join our community (and receive our weekly newsletters) by grabbing The Daily Dinero Ritual!
☕️☕️☕️☕️☕️☕️☕️☕️☕️☕️☕️☕️☕️☕️☕️☕️☕️☕️☕️☕️☕️
I want to hear from you!  What was your favorite takeaway from this episode? Come on over to @HerDineroMatters on Instagram and share it with us there.
Abrazos + Much Love,
Jen
P.S. ¡GRACIAS por escuchar! THANKS for listening!
Enjoy the Show?
Be sure to never miss an episode by hitting the subscribe or follow button on your favorite podcast app! Get instant notifications of the latest episodes now!
Be sure to share with a friend (or two)! You never know what someone is going through in their financial life. Here is a tweet you can share now:
Have Feedback?
Send us feedback via email to support@jenhemphill.com or click here to leave a voicemail.
The post, Embracing Mindset and Opportunities to See Incredible Growth | HDM 240 appeared first on the Her Dinero Matters Podcast.