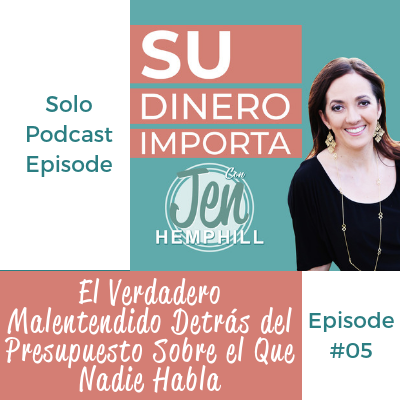 El presupuesto dan miedo. Si has fracasado muchas veces con el presupuesto es necesario escuchar este episodio. Vas aprender por qué te pasa y que cambios tienes que hacer.
En Este Episodio Vas Aprender:
El error común del presupuesto

Las 4 etapas invisibles y cómo eso se traduce a tu presupuesto

Detrás de las escenas en cuántas iteraciones de presupuestos yo misma he pasado
Resources From This Episode:
This episode in English on the Her Money Matters Podcast
I want to hear from you! What was your favorite takeaway from this episode? Please come on over to our community and share with us there.
You can join our community (and receive our weekly newsletters) by grabbing The Daily Dinero Ritual!
Abrazos + Much Love,
Jen
P.S. THANK YOU for listening!
The post, El Verdadero Malentendido Detrás del Presupuesto Sobre el Que Nadie Habla | SDI 5 appeared first on the Su Dinero Importa Podcast