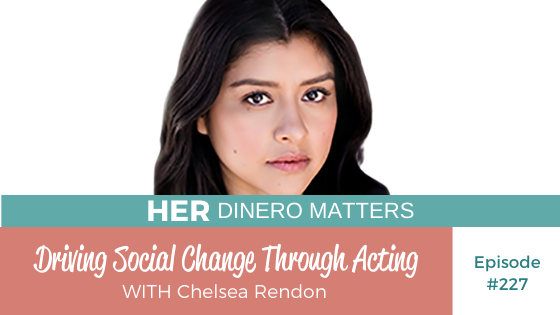 Driving social change through acting is one of Chelsea Rendon's many talents, and this week she joins us in a very transparent conversation about her life as a Latina actress.
Chelsea Rendon has been acting since she was 7 years old. She has had many roles in feature films and television shows, including most recently the critically acclaimed hit drama series Vida. With an impressive 100% on Rotten Tomatoes, the Starz series is about two Mexican-American sisters who move back to their childhood home in Los Angeles after the death of their mother.
Known for portraying dominant, empowering roles, Chelsea also recently starred in the immigration drama, The Infiltrators. The show portrays a small group of young undocumented immigrants who embark on a mission to set people free from one of America's for-profit detention centers.
Chelsea also stars in the upcoming American crime thriller, The Tax Collector, alongside Shia LaBeouf, Lana Parilla, and George Lopez.
A career in acting is not an easy one. You need be able to push through in the tough times. I hope you enjoy this inspiring episode as we discuss Chelsea's journey from being raised by a single mom, developing her career in acting from a young age, to promoting social change through her work as an actor.
Listen to the Episode Below
What you'll learn about in today's episode:
The money lessons she learned being raised by a single mom

How making money as an actress has changed for her over the years

The inside scoop on her different acting roles and how the pay differs

Her insight as to how a show like Vida is driving social change
Resources From This Episode:
Follow Chelsea Rendon on Instagram: https://www.instagram.com/chelsearendon
Banish overwhelm and increase your confidence with dinero through 5 simple steps! Grab your FREE copy of the Daily Dinero Ritual here: www.jenhemphill.com/dinero
Nominate a mujer (woman) for Reina of the Week here: www.jenhemphill.com/reinaoftheweek
☕️☕️☕️☕️☕️☕️☕️☕️☕️☕️☕️☕️☕️☕️☕️☕️☕️☕️☕️☕️☕️
I want to hear from you! What was your favorite takeaway from this episode? Come on over to @HerDineroMatters on Instagram and share it with us there.
Abrazos + Much Love,
Jen
P.S. ¡GRACIAS por escuchar! THANKS for listening!
Enjoy the Show?
Be sure to never miss an episode by hitting the subscribe or follow button on your favorite podcast app! Get instant notifications of the latest episodes now!
Be sure to share with a friend (or two)! You never know what someone is going through in their financial life. Here is a tweet you can share now:
Have Feedback?
Send us feedback via email to support@jenhemphill.com or click here to leave a voicemail.
The post, Driving Social Change Through Acting with Chelsea Rendon | HDM 227, appeared first on the Her Dinero Matters Podcast.