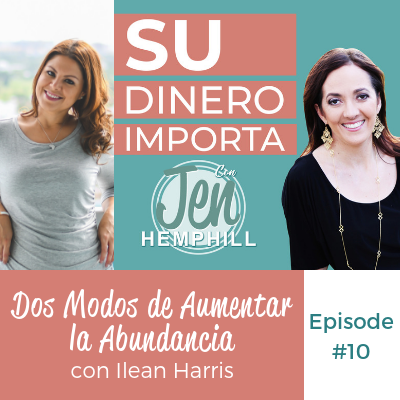 Sentir abundancia es bueno para el alma de uno.
Even with our unique upbringings, it is very common to hear messaging that is along the lines of not having enough. This of course lowers the abundance we feel.
In this episode we get a sneak peek behind the curtain of Ilean Harris' money story, the lessons she learned and how it led her on the path she is on today (which includes an overflow of abundance).
What You'll Learn In Today's Episode:
The story of las muñecas and the impact it had on her as a kid

Two ways she became more abundant in her life

Three tips for any aspiring business owner

Three actions Latina business owners can take to lessen the blow of the gender wage gap
Resources From This Episode:
Interview with Ilean on Her Money Matters: www.jenhemphill.com/009
I want to hear from you!  What was your favorite takeaway from this episode? Please come on over to our community and share with us there.
You can join our community (and receive our weekly newsletters) by grabbing The Daily Dinero Ritual!
Abrazos + Much Love,
Jen
P.S. THANK YOU for listening!
The post, Dos Modos de Aumentar la Abundancia con Ilean Harris | SDI 10 appeared first on the Su Dinero Importa Podcast