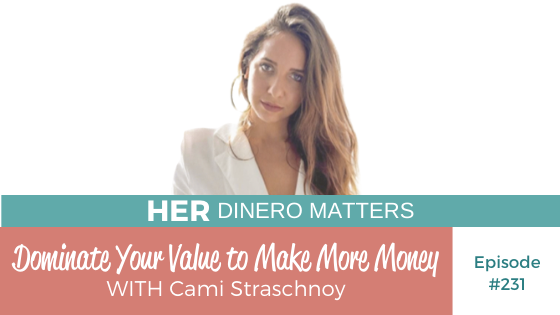 Learning to dominate your value is critical to increasing the income you make. To make more money, you have to know your value deeply. Today's guest Cami Straschnoy shares her journey of learning this lesson and how it has affected her life and her work in the fashion industry.
Cami is an accomplished fashion editor, consultant, marketing and branding strategist, and consumer trends researcher around the world. She has a passion for art, storytelling, and sustainable fashion.
Early on she learned how important it was for her happiness (and bank account) to value her talents and her work.
Hear her story and learn how you can change the status quo during these challenging times.
Listen to the Episode Below
What you'll learn about in today's episode:
The financial lessons she learned from her father who built his career starting from nothing

How her career in fashion came to fruition

Her interest in sustainable fashion and what it has to do with money

Where fashion trends come from
How knowing your value can help you make more money
Resources From This Episode:
Follow Cami on Instagram: @CamiStraschnoy
Feel more confident and know your value, Reina, with your free copy of the Daily Dinero Ritual: JenHemphill/DINERO.
Nominate a mujer (woman) for Reina of the Week here: www.jenhemphill.com/reinaoftheweek
Sponsor For This Episode:
Harry Louis Lopez, creator of Launch Latinx Academy. Learn more and apply for this program here.
☕️☕️☕️☕️☕️☕️☕️☕️☕️☕️☕️☕️☕️☕️☕️☕️☕️☕️☕️☕️☕️
I want to hear from you! What was your favorite takeaway from this episode? Come on over to @HerDineroMatters on Instagram and share it with us there.
Abrazos + Much Love,
Jen
P.S. ¡GRACIAS por escuchar! THANKS for listening!
Enjoy the Show?
Be sure to never miss an episode by hitting the subscribe or follow button on your favorite podcast app! Get instant notifications of the latest episodes now!
Be sure to share with a friend (or two)! You never know what someone is going through in their financial life. Here is a tweet you can share now:
Have Feedback?
Send us feedback via email to support@jenhemphill.com or click here to leave a voicemail.
The post, Dominate Your Value to Make More Money with Cami Straschnoy | HDM 231, appeared first on the Her Dinero Matters Podcast.