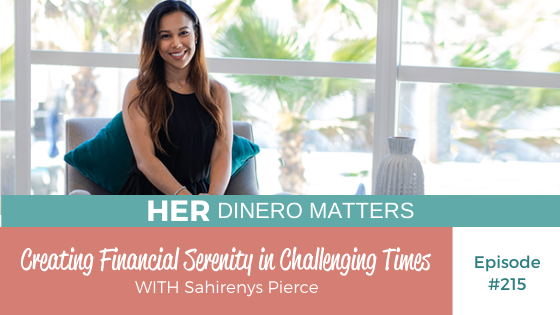 Financial serenity + challenging times- it doesn't seem logical that these two things can co-exist, right?
With preparation, planning, AND intentionality it can happen.
Let's imagine for a moment receiving some difficult news about a loved one which means having to miss work. Imagine being able to do this without having to worry about the missed income so you can focus on what matters most- your family.
In this episode, we get to meet Sahirenys Pierce who found herself in a very similar situation. Sahirenys and her husband have been able to set up a way to manage their finances that have allowed them to focus on their family during a very difficult time.
This preparation, planning + intentionality allowed financial serenity to co-exist in a challenging time in their life.
She shares all the details and more in this episode.
Listen to the Episode Below
Quick tidbits from today's episode:
She shares exact financial advise she heard over and over again growing up

What exactly led her to frustration as she graduated high school and studying finance

The discovery she made at a pivotal moment in her family's life that involved open-heart surgery, no income and a death
Resources From This Episode:
@PoisedFinancialLifestyle on IG
Get the details on Dinero Study Hall: The Budgeting Edition
Nominate a mujer (woman) for Reina of the Week here: www.jenhemphill.com/reinaoftheweek
☕️☕️☕️☕️☕️☕️☕️☕️☕️☕️☕️☕️☕️☕️☕️☕️☕️☕️☕️☕️☕️
I want to hear from you! What was your favorite takeaway from this episode? Come on over to @HerDineroMatters on Instagram and share it with us there.
Abrazos + Much Love,
Jen
P.S. ¡GRACIAS por escuchar! THANKS for listening!
Enjoy the Show?
Be sure to never miss an episode by hitting the subscribe or follow button on your favorite podcast app! Get instant notifications of the latest episodes now!
Be sure to share with a friend (or two), you never know what someone is going through in their financial life. Here is a tweet you can share now:
Have Feedback?
Send us feedback via email to support@jenhemphill.com or click here to leave a voicemail.
The post, Creating Financial Serenity in Challenging Times with Sahirenys Pierce | HDM 215 appeared first on the Her Dinero Matters Podcast