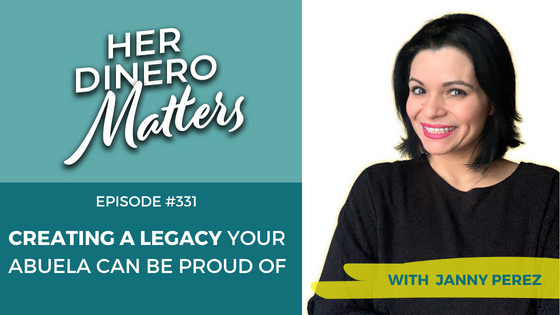 Being proud of where you come from and passing it on to your kids is part of keeping your legacy alive. It doesn't matter where you are or where you live, it's about celebrating your roots. In this episode, Janny Perez is here to share how you can be creating a legacy your abuela can be proud of.  
Janny Perez is the founder of Mi Legasi, an online blog, platform, and community for these parents. She is also the host of The Latina Mom Legacy podcast and has been featured in Oprah Daily, Hip Latina, and Fierce by Mitu to name a few.
You will also hear the following in today's episode:
How her mother's advice has influenced her financial life to this day

What led her to work supporting moms in raising bilingual kids

What the "mi abuela would be proud" legacy is and what it means to her
Listen to the Episode Below
Want To Listen To Certain Parts Of The Episode? Hover Over The Minute Mark Below And It Will Take You To That Part Immediately. 🙌🏽
↳The advice Janny's mother gave her at the age of 19 and the two main lessons she took away from it. [3:12]
↳The 2 pieces of financial wisdom Janny wants to leave her daughter with so she can be financially strong. [11:22]
↳Her point of view about social media when it comes to children. [14:01]
↳The best piece of advice she was  given on raising bilingual kids. [16:42]
↳ What led her to work on teaching moms to raise bilingual kids. [20:10]
↳ What the"mi abuela would be proud" legacy is and what it means to her. [25:29]
↳ What is next for Janny's business. [28:59]
Resources From This Episode:
Click here to watch this episode on YouTube!
Connect with Janny: Janny Perez
Listen to the episode where I was a guest on The Latina Mom Legacy: Click here
NEW! Join our community on Facebook. Click Here!
If you are interested in learning about a specific money – topic, let us know by filling out this form!
Grab your copy of my  Daily Dinero Ritual and increase your money confidence (it's free). Follow us on your favorite podcast player and review!
If you listen on Apple Podcast you can review THERE. If not you can go HERE to review on Podchaser! THANK YOU! 😉
This episode has been brought to you by McDonald's
☕️☕️☕️☕️☕️☕️☕️☕️☕️☕️☕️☕️☕️☕️☕️☕️☕️☕️☕️☕️☕️
I want to hear from you!  What was your favorite takeaway from this episode? Come on over to @Jenhemphill on Instagram and share it with us there.
Abrazos + Much Love,
Jen
Enjoy the Show?
Be sure to never miss an episode by hitting the subscribe or follow button on your favorite podcast app! Get instant notifications of the latest episodes now!
Be sure to share with a friend (or two)! You never know what someone is going through in their financial life. Here is a tweet you can share now:
Have Feedback?
Send us feedback via email to support@jenhemphill.com or click here to leave a voicemail.
The post, Creating a Legacy Your Abuela Can Be Proud Of | HDM 331 appeared first on the Her Dinero Matters Podcast.