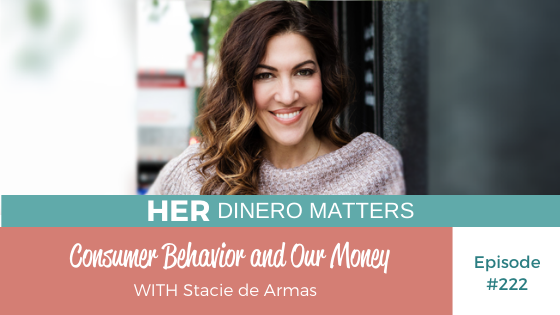 Today we're talking about consumer behavior within the Latinx community and why it matters for you and your money.
Our guest is Stacie de Armas, Vice President Hispanic Market Insights and a Leader within Nielsen's Diversity & Inclusion practice. She is a researcher, consumer behaviorist, thought leader, and subject matter expert on the U.S. Hispanic market.
Stacie is responsible for researching, uncovering, and sharing insights on the power of the Hispanic consumer with brands, media companies, advocacy groups, and policymakers.
Why should we pay attention to the findings on Hispanic consumer behavior? And what in the world does this have to do with our money?
Stacie joins us today to give us answers to those questions and more.
Listen to the Episode Below
What you'll learn about in today's episode:
The lessons learned from her first job at a bank serving a good portion of the Hispanic community

Her role as a consumer behaviorist and why we as consumer should pay attention

Top findings about the Latinx community as it relates to finances

The role of Latinas in both married and single households when it comes to money
Resources From This Episode:
Connect with Stacie on IG: @StaciedeArmas
If you would like some personalized help with your finances that goes beyond telling you to save more and spend less, be sure to apply for coaching: jenhemphill.com/apply
Don't miss perusing the Her Dinero Matters LOUNGE (my collection of free and paid resources). Create your free account today: https://jenhemphill.com/thelounge
Nominate a mujer (woman) for Reina of the Week here: www.jenhemphill.com/reinaoftheweek
☕️☕️☕️☕️☕️☕️☕️☕️☕️☕️☕️☕️☕️☕️☕️☕️☕️☕️☕️☕️☕️
I want to hear from you!  What was your favorite takeaway from this episode? Come on over to @HerDineroMatters on Instagram and share it with us there.
Abrazos + Much Love,
Jen
P.S. ¡GRACIAS por escuchar! THANKS for listening!
Enjoy the Show?
Be sure to never miss an episode by hitting the subscribe or follow button on your favorite podcast app! Get instant notifications of the latest episodes now!
Be sure to share with a friend (or two), you never know what someone is going through in their financial life. Here is a tweet you can share now:
Have Feedback?
Send us feedback via email to support@jenhemphill.com or click here to leave a voicemail.
The post, Consumer Behavior and Our Money with Stacie de Armas | HDM 222, appeared first on the Her Dinero Matters Podcast.