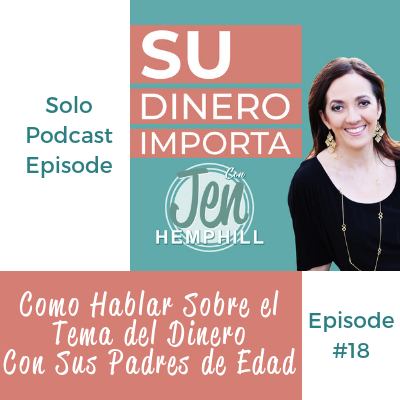 Es difícil hablar con nuestra pareja o nuestros hijos sobre el dinero. ¿Y con nuestros padres que son de edad? ¿Cómo se habla sobre el dinero?
¿Cómo sabemos que están bien financieramente para cuidar de sí mismos? ¿Cómo nos acercamos a la conversación sin insultarlos?
En este episodio voy a compartir 6 consejos para facilitar la preparación de esta conversación.
El Spanish Barometer de hoy es el 90%
_________________________________________
How To Talk About the Topic of Money With Our Aging Parents
It's hard to talk about money with our spouse or even our kids. How about our aging parents?
How do we know if they are fine financially to take care of themselves? How to we approach this conversation without insulting them?
In this episode I'm going to share 6 tips to help in preparing for this conversation.
Spanish Barometer today is 90%
Lo que aprenderas en episodio de hoy (What you'll learn about in today's episode):
Cuál debería ser tu objetivo final que hará tu vida mas fácil en el futuro con este tema (What your ultimate goal should be which will make your life easier later)

La ventaja que te da en compartir lo que has hecho en tu preparación para el futuro (How sharing how you have prepared for your future will help in the talk)

Qué palabra clave siempre debes tener en cuenta al tener esta conversación (What key word you should always keep in mind when having this conversation)
Resources From This Episode:
You can join our community (and receive our weekly newsletters) by grabbing The Daily Dinero Ritual!
English version of this episode on Her Money Matters
Abrazos + Much Love,
Jen
P.S. ¡GRACIAS por escuchar! THANKS for listening!
The post, Como Hablar Sobre el Tema del Dinero Con Sus Padres de Edad |SDI 18 appeared first on the Su Dinero Importa Podcast